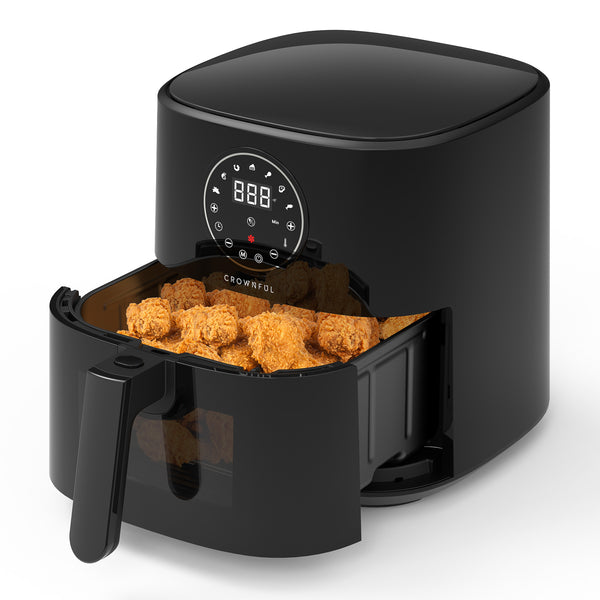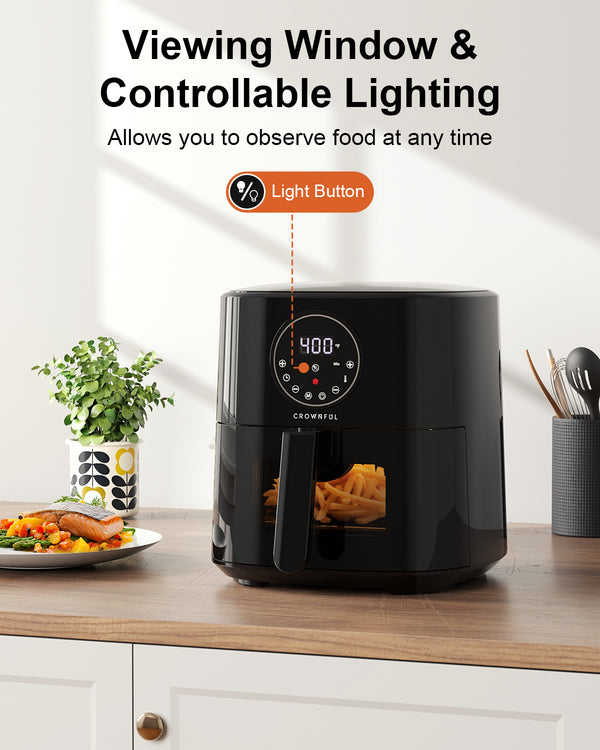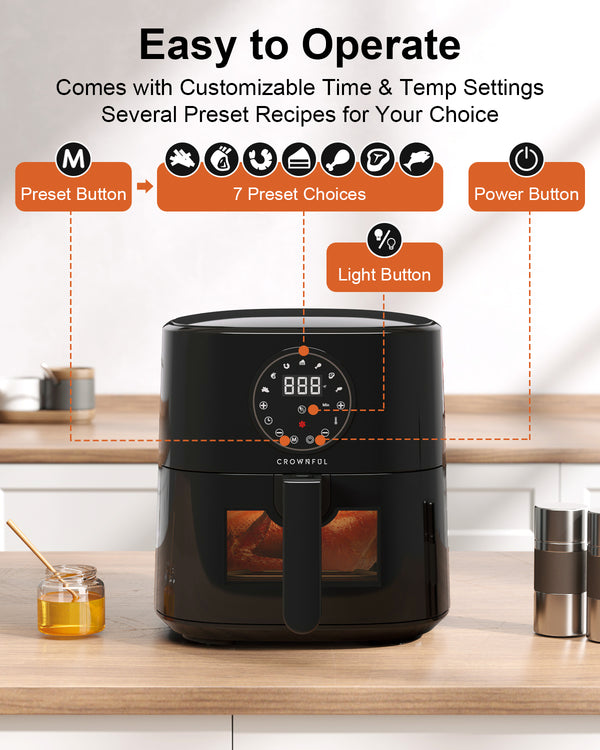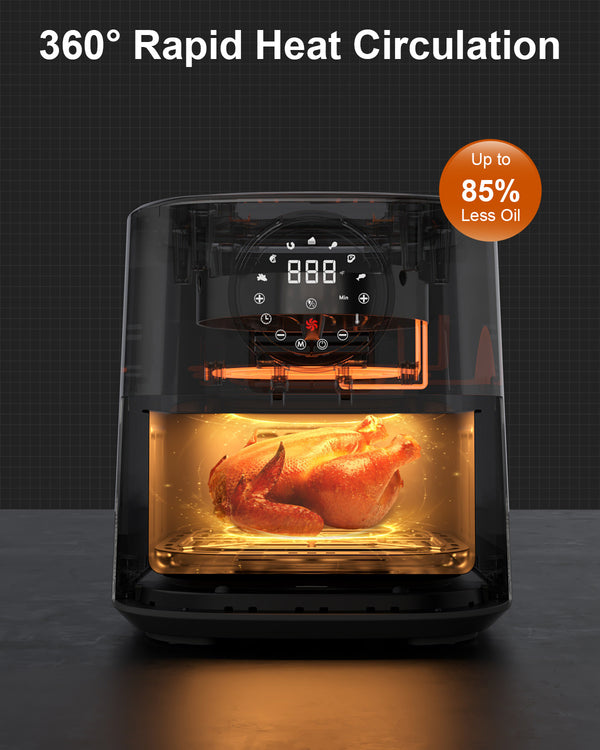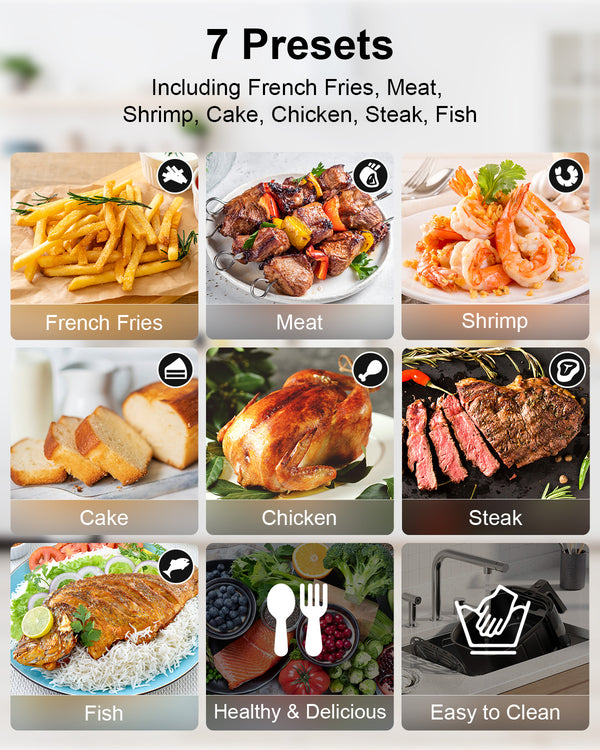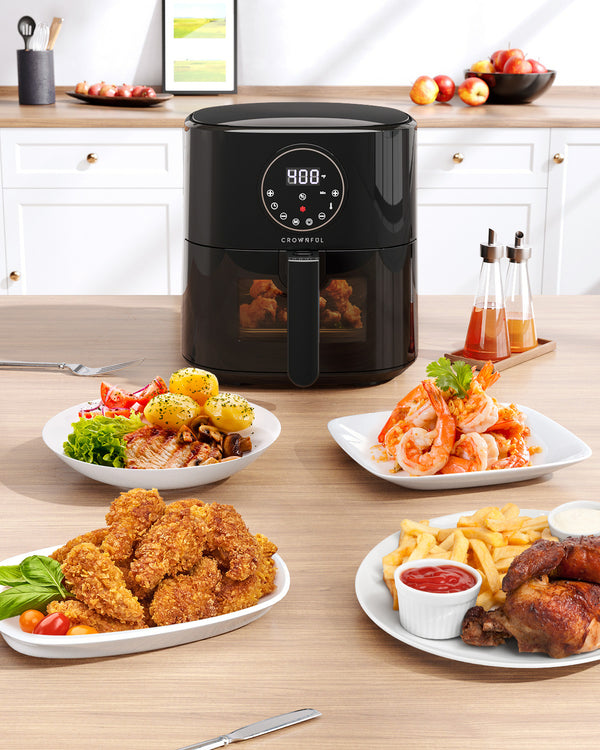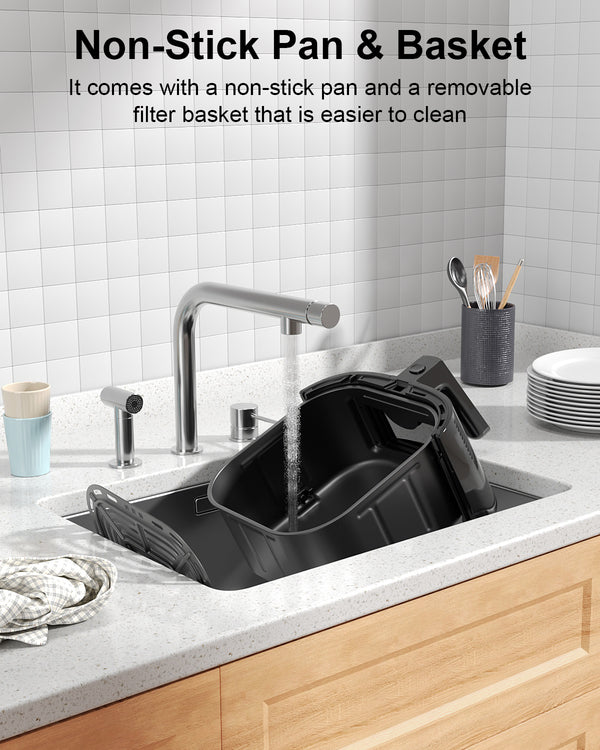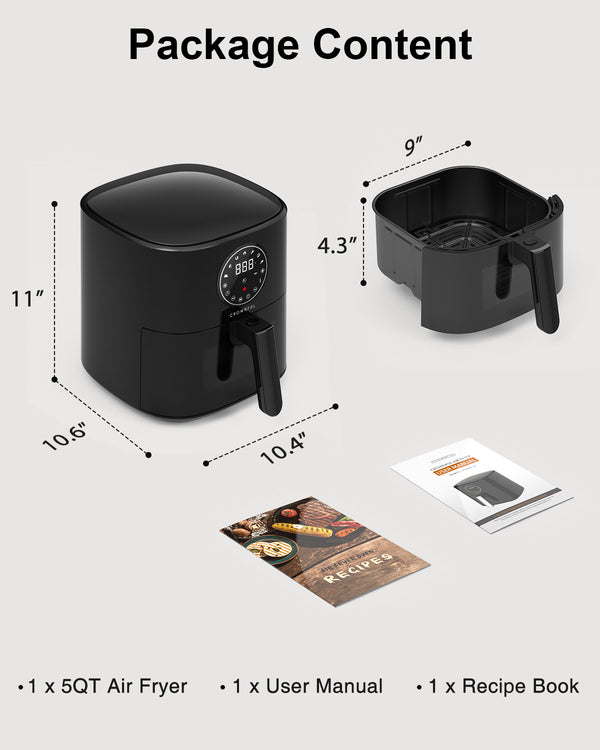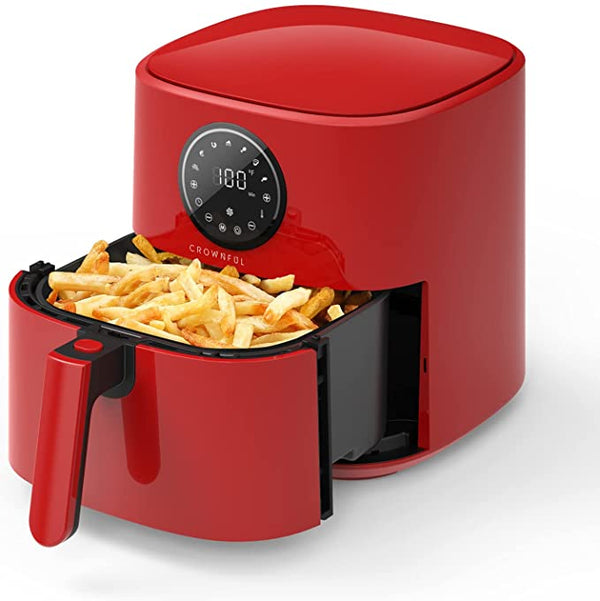 CROWNFUL 5QT Air Fryer, Electric Air Fryers with 7 Presets, Digital LCD Touch Screen Control Panel, Nonstick Basket, 1500W UL Listed Oven
Brand: CROWNFUL
Item Condition: New
Model No: AFT05001-UL
UPC: 850014439439
360° RAPID AIR TECHNOLOGY: The Crownful 5-Quart Air Fryer uses 360 degrees rapid air frying technology to make sure the food is cooked evenly. You can also enjoy splatter-free cooking with up to 80% less fat or oil.

MULTIFUNCTIONAL ALL-IN-ONE COOKER: Cook your favorite meals using the different built-in presets which is designed to give you multiple cooking options. The PRESETS are: French Fries, Meat, Shrimp, Cake, Chicken, Steak, Fish Fillet or you can also easily customize the setting to cook your food exactly as you want.

EASY TO CLEAN & OPERATE: The non-stick basket makes it easier to clean. It is also equipped with a durable handle guard to prevent accidental detachment. The touch screen digital control panel is very convenient to use. You can start cooking with just a few touches of a button.

DURABLE & SLEEK DESIGN: The neat and sleek design makes it perfect to put in any kitchen countertop. The matte finish reduces fingerprints and scratches on the surface. It has 5 quarts (4.8L) capacity, enough to serve food for 2-4 persons. It comes with a bonus cookbook with delicious & easy recipes for your daily meals.

VIEWING WINDOW & CONTROLLABLE LIGHTING: You can easily see the state of your food inside anytime by turning on the built-in light without pulling out the basket. You can observe through the window the cooking progress and see your foods being fried to its ideal finish.

SAFETY & WARRANTY: The Crownful Air Fryer is UL listed which means you can be sure it is safe to use.

CROWNFUL

offers 1-year so you can trust that your issues and concerns will be addressed accordingly.
PACKAGE CONTENT:
1 x CROWNFUL 5qt Air Fryer
1 x User Manual
1 x Recipe Book
SPECIFICATIONS:
Voltage: AC 120V, 60Hz
Rated Power: 1500W
Temperature Range:180F~400F 
How to clean the air fryer?
Soak the detachable parts of the air fryer in water with dishwashing liquid or soapy water for about 10 minutes if needed, and then lightly scrub with a non-abrasive sponge afterward. Use the soft side of the sponge to wipe the non-stick surface. Do not use an abrasive type of cleaning pad.
Can I roast a whole chicken?
Yes, we suggest the chicken should be less than 3 pounds.
What is the warranty?
We offer 12 months warranty for all our products.
How to STOP the air fryer while using?
Press the power button once, and wait for about 20 seconds, the fryer will stop. If you want to shake the food, just pull out the basket to shake, it will resume after putting it back in.
My door won't open, I shut it and then went to go open it, but it won't open, is there some way to open the door?
This is probably because of the pressure difference between the inner part of the air fryer oven and the outer. Please power on the air fryer and use the preheat function to heat the oven's inner part first and then try to open it again. If the problem persists, please contact us through Amazon or email support.
We have a customer asking how can she remove the spots that the moisture/water left in the fryer basket?
Some steam is normal. We recommend heating up the oven without putting any food in so that the steam will evaporate.
Why is the food not cooking evenly from the top to the bottom of the rack?
The hot air comes from the top of the air fryer oven which is different from the traditional oven with a fan built into the rear of the oven. Please make sure you don't put too many ingredients/food on the top rack which may stop the air circulation.
What is the air fryer basket made of? And is the inside stainless steel?
The basket and the inside part are made of aluminum alloy. Aluminum is an excellent conductor of heat and weighs about a third of what steel weighs. It is often the best option for food applications.
Can it be used to bake a cake?
This air fryer has a Cake preset menu.
When I first use the air fryer, it smoked and gave off a bad smell. Is this normal?
Yes, this is normal. Initial start-up operation may produce a smell and smoke for about 15 minutes. It is due to the protective substance on heating elements that protect them while they are stored. Cook slices of lemon at 400℉ for 5-10 minutes to minimize the smell.
Is there any cooking function on the air fryer that does not use the fan?
Every cooking function on the air fryer will use the fan. High-performance circular heat technology that allows quick and even cooking every time.
Can I cook pizza on this air fryer?
Yes. This air fryer does not have a "pizza" cooking function but you can adjust the time and temperature according to your recipe's needs.
PFAs
Does crownful use Teflon as a nonstick coating?
Great company!
With an error I made on my order, it was swiftly corrected and delivery made in time for Christmas. I will definitely be ordering from them again!
Super Happy Customer
I ordered a Crownful 5 Qt Air Fryer from a discounted Amazon Warehouse. It arrived to me brand new but missing the cooking fryer piece. Without it, I could not use my Air Fryer. Amazon offered me a return option for a full refund, however I decided to contact Crownful first. I am so happy I did. The amazing customer service rep offered to send me the part I need free of charge for the part and shipping. I received the part and was able to cook my supper in my Crownful 5 Qt Air Fryer. It DID NOT disappoint. My supper was delicious. I was able to cook chicken and fries at the same time, due to the large drawer that comes with the 5 Quart.
Thank you so much Crownful. I would suggest a Crownful Air Fryer to anyone. The food is crispy , yummy and much healthier & Crownful customer service is awesome.
Crownful is replacing missing part for free
I ordered this Air Fryer from an alternate Amazon warehouse with a discount. I was unaware I would not receive the cooking drawer or plate I would need to cook. Amazon did give me a discount , however they were not able to replace the part for it was not ordered by their main warehouse. I contacted Crownful to inquire about buying the part. They are sending it to me for free, even though it technically isn't their responsibility to replace the part, being that it wasn't bought from them. Crownful answered me right away and their customer service is amazing. I can't wait to start cooking with my Crownful 5 Quart. Thank you Ryan from Crownful. I'm a happy customer. I will recommend Crownful appliances to others. ☺️
Part missing .. ordered from Amazon.
Hi,
I ordered the Crownful 5 Quart from Amazon with a deal. I did not realize that the most important part of the fryer would not be included in the deal. Amazon customer service were amazing, however I would still like the fryer tray that sits in the drawer. The drawer has nothing in it. Could you please direct me the right way to buy the proper part so I can use the fryer?