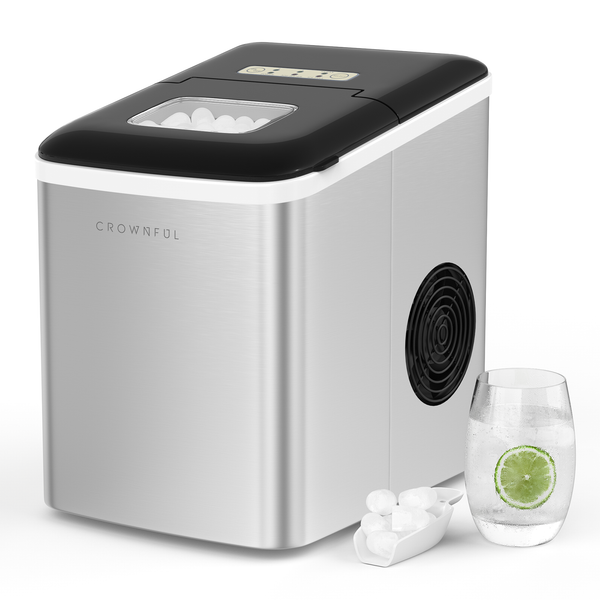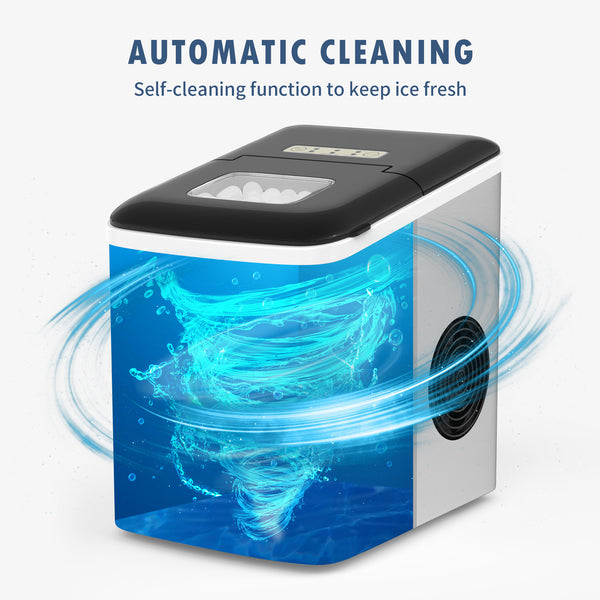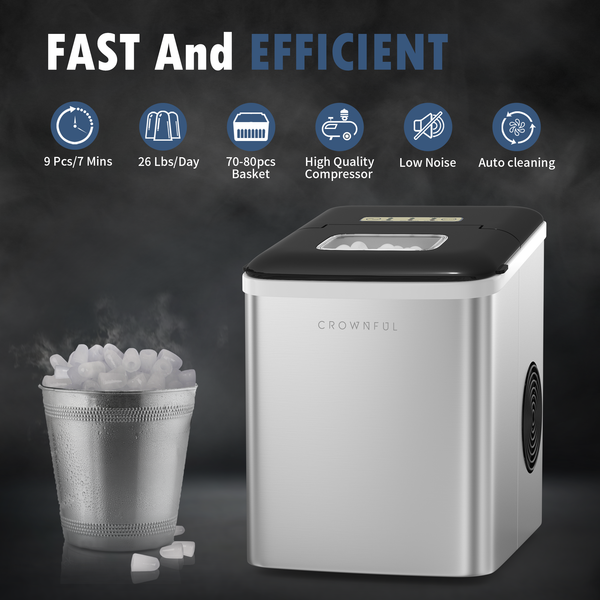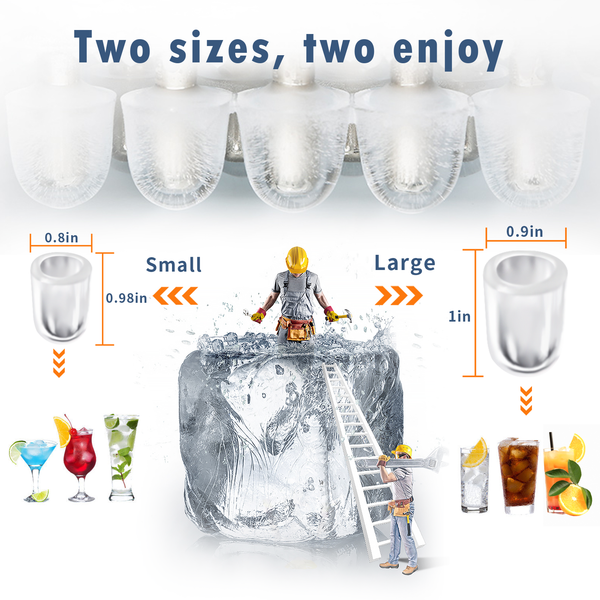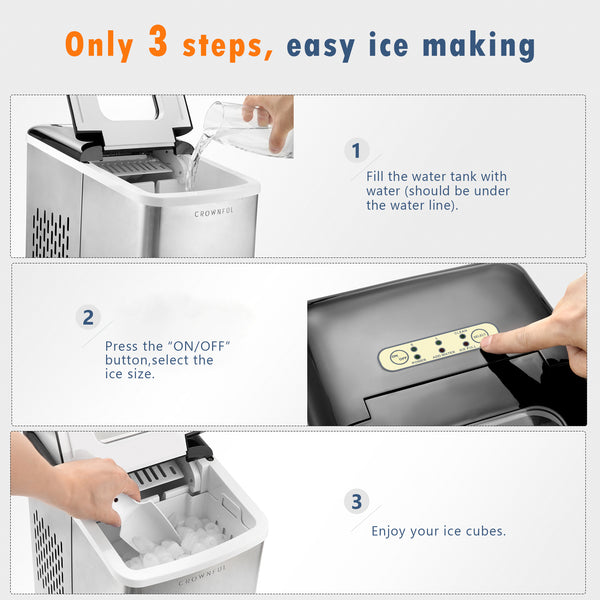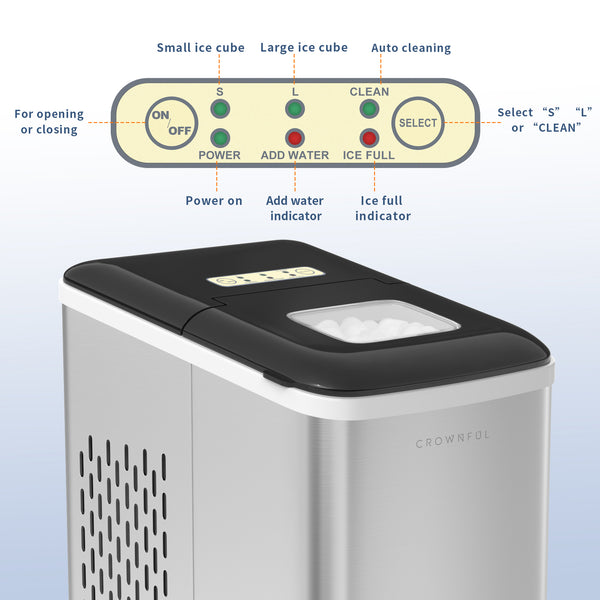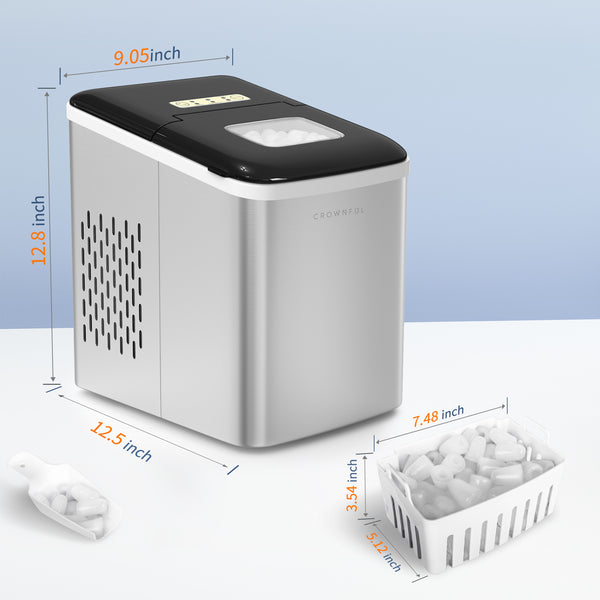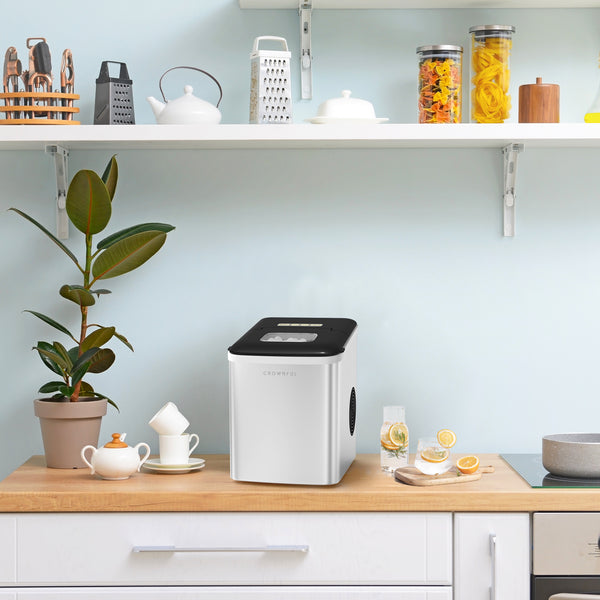 CROWNFUL Ice Maker Machine for Countertop, 9 Ice Cubes Ready in 7 Minutes, 26lbs Bullet Ice Cubes in 24H, Electric Ice Maker with Scoop and Basket
Brand: CROWNFUL

Item Condition: New
Model: IM2102T-UL1
QUIET & EFFICIENT: Crownful Portable Ice Maker produces up to 9 pieces of ice cubes in just 8-10 minutes. It has a quiet cooling system that requires low energy to cool. Your party won't be overshadowed by your ice maker.


STYLISH & COMPACT DESIGN: This ice maker has a stylish and chic design. Its compact size makes it perfect to set up on your counters or tabletops. It is ideal to use indoors or outdoors for parties and events.


EASY OPERATION: The intuitive one-button operation makes start-up a snap. It also has a feature that tells you if it needs water, or if ice is ready or if it needs cleaning. All for your convenience!


HIGH CAPACITY: This electric ice maker includes an ice scoop and removable ice bucket which has a capacity to hold up to 70-80 pieces of ice cubes.



WARRANTY & SUPPORT: Crownful offers 12-month warranty and lifetime support. Customer Satisfaction is Our TOP priority. Ice makers may have The non-returnable issue, please contact us directly if you need Return assistance.
SPECIFICATIONS:
Water Reservoir Capacity: 1.8L

Ice Basket Capacity: 0.8L

Production in 24H: 26 pounds

Power Source:120V / 60Hz

Rated Current: 1.7A

Housing: ABS

PACKAGE CONTENT:
1 x Ice Maker
1 x Ice Basket
1 x Ice Scoop
NOTE: This product is only works with 120V electricity, Please carefully review the product information to determine if this product is appropriate for you.
Q: Why does the ice cube I made have a plastic smell?
A: The ice cube itself has no taste. If you feel there is a plastic smell, try to clean the inside of the machine with lemon water, then run a few cycles, and finally rinse with distilled water.
Q: How should I clean the machine?
A: It is recommended to use lemon water or weak acid vinegar for cleaning. Drain immediately after cleaning, and then clean it with pure water. It is recommended to drain water at least once every three days. Draining can not only ensure that the hardness of the water is not too high, but also ensure that impurities can be discharged well, and it is not easy to produce scale in the water tank.
Q: Why is there water flowing but not making ice?
A: If you make sure that the ambient temperature is not abnormal, then the refrigerant of the machine has leaked. Please provide a video or picture and send it to us, and the CROWNFUL team will help you.
Q: Why is the ice cube small and wet?
A: The refrigerating system will be unstable just after starting. So the ice in the 1-3 cycles maybe smaller and wet. But when the machine works more cycles, the refrigerating system will be more stable and the ice will be normal.
Q: Why the "add water" indicator turns on though it's full of water?
A: Please empty the tank first, refill the pure water and try again; Clean the unit.
Q: Why the "ICE FULL" indicator lights up though it's not full of ice?
A: 1. Remove the ice from the ice basket. 2a. Please clean the sensors located on the sides and restart the ice maker. 2b. Call Customer Service.
Q: Is this unit BPA free?
A: No, this unit contains BPA.
Q: Why does my ice cube melt easily?
A: Because the ice maker is not a refrigerator, it does not have a heat preservation function. The high ambient temperature in summer will accelerate the melting of ice cubes. You can close the lid of the machine to keep the internal temperature. Some customers also put electric fans on the side of the machine to blow away the hot air around, thus solving the problem, you can try. However, if you are not using ice cubes for a long time, we recommend removing them from the ice basket and storing them in the refrigerator.
Q: How often should I replace the water?
A: We suggest replacing the water every 24 hours. Please empty the water reservoir if the ice maker is not used for a long time.
AWESOME
Seriously I basically hadn't clean the ice machine but once and that was to the fact that I didn't want it to be creek water...This be my first
ice maker!!! Either way honest truth!!! And excuse me to the makers I hope you don't black ball me from your products!!! Oh almost forgot 3 years straight only unplugging the machine no more then 3 times 1 to semi clean water tank and the other two switching around plugs see what is best Combo because of other items that need electricity!!!
noisy
to whom it may concern when i received my unit i installed it and i though it seemed noisy so we started using it and then it stopped working altogether i've been trying to process a claim online with no success is it possible to get a retune slip or a phone call my # is [****]
Love it
I've used the machine continuously for 2 years. It's fabulous, so good I got a second one for our RV. Easy to use, easy to clean, easy all the way around.
Stopped working
Ive had the machine for about a year, and it has now completely stopped working. It still turns on, but i guess it wont suck up water to make ice. In the 1 year though, it made ice quick, but had to troubleshoot a few times to get it working.