Ice Cube Maker 40lbs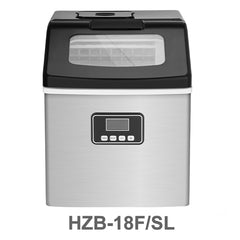 1.USER MANUAL:HZB-18F/SL
2. How to clean the ice maker?
Clean the interior with diluted detergent, warm water and a soft cloth when you first use it.
Open the Auto cleaning program according to the Manual, and drain out the water from the draining port by unplugging the drain cap on the back.
Then test the ice maker by filling up the water reservoir with water mixed with baking soda or 2-3 tsp of vinegar just to test the first batch and eliminate any taste during the first use.
When the machine is not in use for a long time, open the water drain cap to drain the water completely out from the water reservoir.
It is better to change the water every 24 hours. and clean the unit every 3 days
3. Q: The machine is running but does not produce ice.
A: Ambient temperature or water temperature is too high, Move the unit to a cool place or refill with cold water. if it still doesn't work, please send us a video showing the machine running, mainly shooting the machine's internal and control panel.
4. Q: Ice cubes melt quickly.
A: The ice maker is not a freezer. Please use the ice ASAP or transfer it to your freezer.
5. Q: Ice cubes sticking together.
A: The ice will fall off as a single piece, just tap it with an ice shovel to separate them.
6. Q: Can the ice maker keep the cubes frozen?
A: This ice maker is not a freezer so it won't keep the ice cubes from melting. Please use the ice immediately or transfer it to your freezer for storage.
7. Q: Do all parts touching the water stainless steel? 
A: The surface of the ice machine is made of stainless steel, and the inside is made of safe plastic, which is not easy to be corroded by water and is safer to use.
8. Q: The water reservoir has water, but the "ADD WATER" indicator is on.
A: *Do auto self-cleaning process and restart your ice maker;
*please empty your water tank, refill with pure water and try again.
*Contact us for a solution with a video