Nugget Ice Maker 26lbs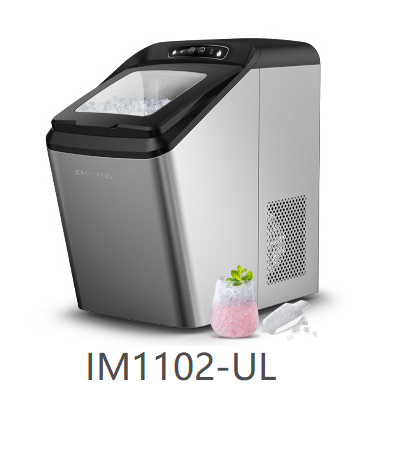 3. NOTE
1. Before using the ice maker for the first time, please wait for 2 hours after the    unit has been leveled and positioned in the proper place
2. Do not fill the water reservoir with hot water. This may damage the ice maker. It is best to fill the water reservoir with water of room temperature or lower.
3. Do not fill above the MAX water level mark.
4. Recommend cleaning your ice maker at least once per week.
5. Do not use organic solvent, boiled water, detergent, strong acid and strong alkali etc. for cleaning
6. Please empty the water reservoir and dry it for storage if the ice maker is not used for a long time.
3. How to clean the ice maker?
Clean the interior with diluted detergent, warm water and a soft cloth when you first use it.
Open the Auto cleaning program according to the Manual, and drain out the water from the draining port by unplugging the drain cap on the back.
Then test the ice maker by filling up the water reservoir with water mixed with baking soda or 2-3 tsp of vinegar just to test the first batch and eliminate any taste during the first use.
When the machine is not in use for a long time, open the water drain cap to drain the water completely out from the water reservoir.
It is better to change the water every 24 hours. and clean the unit every 3 days
3. Q&A
Question: Is it working independently or I do need to connect the machine with a water pipe?
Answer: There are two ways to add water to the machine. You can add water manually in the water tank, or you can link the water pipe to automatically add water.
Question: Does the automatic water filling device need to do anything?
Answer: Automatic water adding does not require any operation, just press the ice button, it will automatically add water, when the water reaches the highest water level, it will automatically stop
Question: Can a filter device be added to the automatic water filling point?
Answer: NO,it can't
Question: What to do when there is water shortage?
Answer: Stop making ice, refill water and then press the "ON/OFF" key to restart the ice-making cycle.