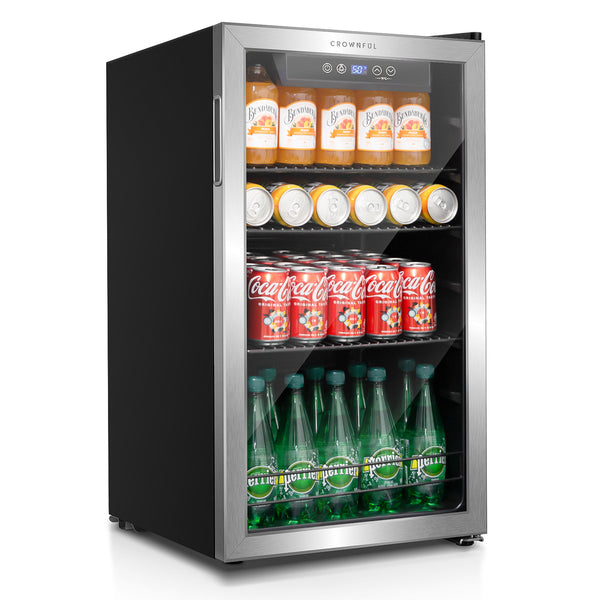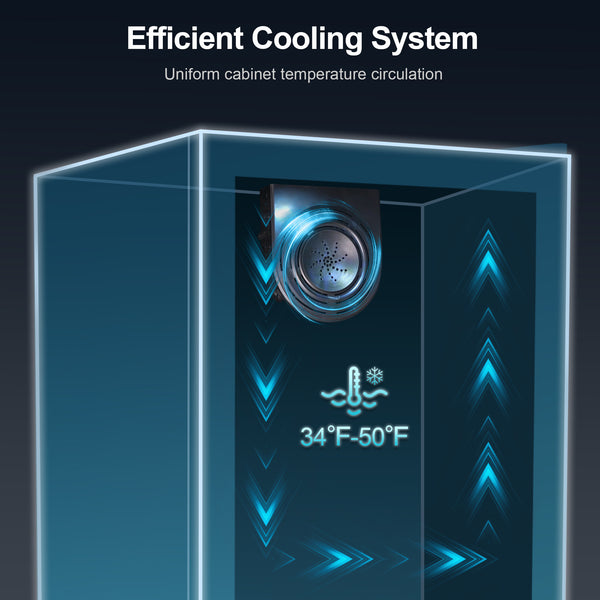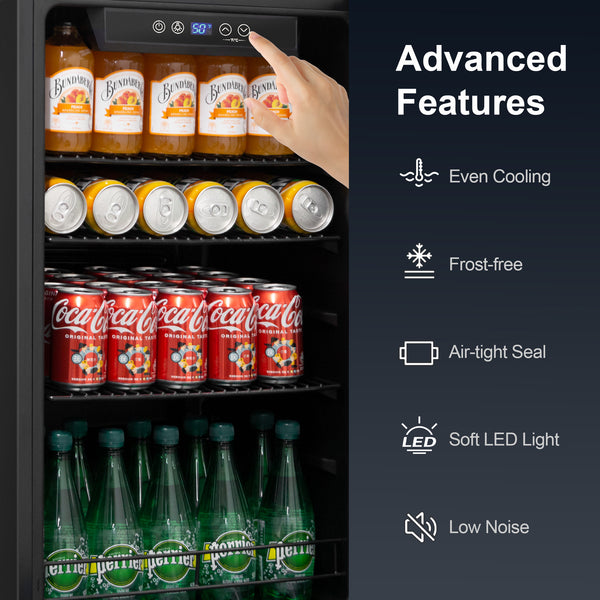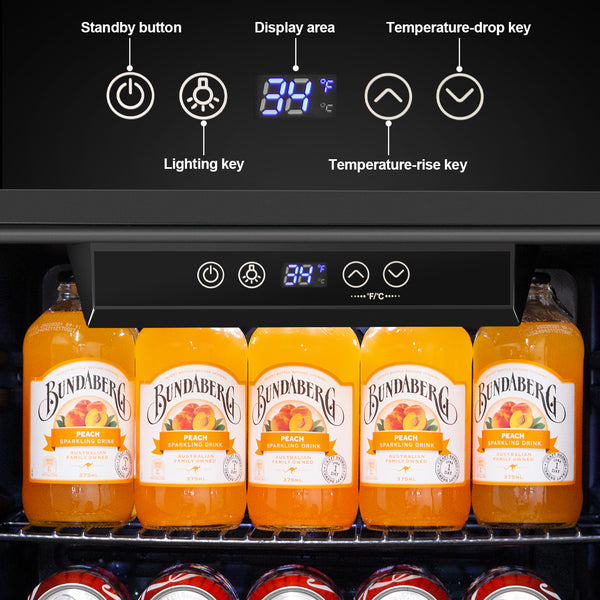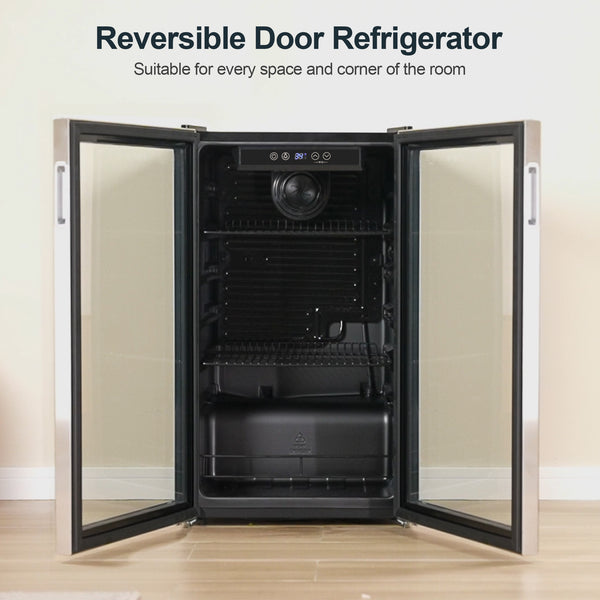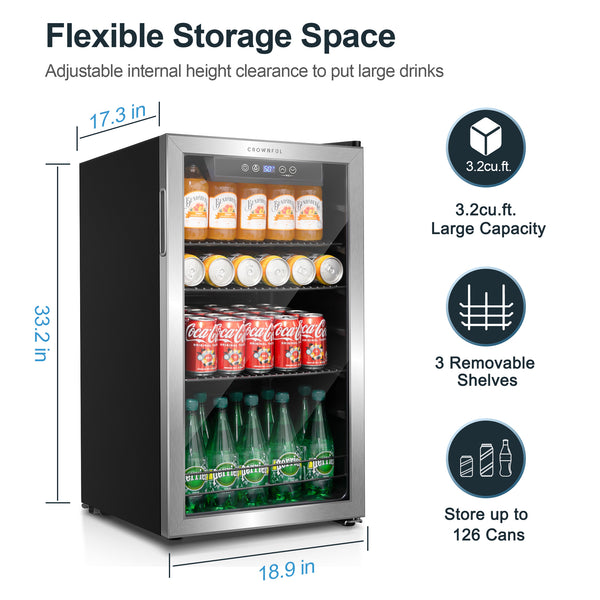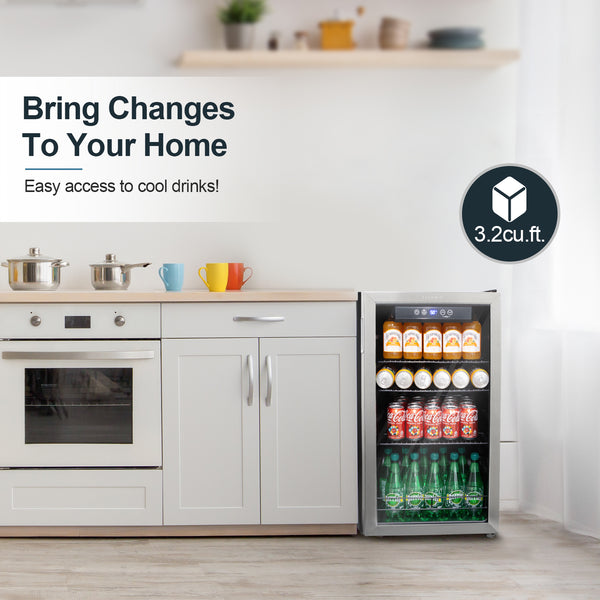 CROWNFUL Mini Fridge Cooler, 126 Cans Beverage Refrigerator with Adjustable Shelves for Soda Beer or Wine, Compact refrigerator with Glass Door, Best for Home/Bar/Office, 3.2Cu.Ft
Brand: CROWNFUL
Item Condition: New
Model: CF-BR01
MODERN & SLEEK DESIGN: This beverage refrigerator features a transparent, tinted double-pane glass door with a stainless steel frame which gives a clear display of beverages inside the machine. It's also built-in with soft LED interior light for illumination during night time for easy selection of your drinks. It has adjustable horizontal feet and flanging shelf design to prevent beverages from slipping off. It has passed UL safety certification so you can use it with confidence.
TEMPERATURE CONTROL: It's designed with a simple touch temperature screen control with one-key temperature adjustment. Temperature Range: 34-50℉
LARGE CAPACITY: This 3.2 cubic feet, free-standing beverage refrigerator has three adjustable internal shelves. You can freely adjust the internal height and can accommodate about 80-126 canned drinks depending on the placement and beverage size.
QUIET OPERATION: It's built with low-noise compressor and convection fan to ensure an even distribution of cold air. The noise during operation is less than 42dB which is suitable for various places such as offices, dorms, apartments, kitchens, etc.
WARRANTY & SUPPORT: Crownful offers a 12-month warranty and lifetime support. if you have any problem,please feel free to contact us.
SPECIFICATIONS:

Power Source:115V/60Hz

Capacity:3.2 Cu.Ft.  (up to 126 cans)

Temperature range: 34-50℉

NOTE: This product is only works with 115V electricity, Please carefully review the product information to determine if this product is appropriate for you.
Q: Is there any reason I shouldn't keep food- stuff in here?
A: Food requires a lower storage environment, you can set the refrigerator cooler temperature to the lowest for short-term storage.
Q: Can I place this under the counter?
A: You can place this under the counter, but need leave some space for heat dissipation, The top space of the cooler shall be greater than 12in, and the distance from bothsides and backside shall be more than 4in.
Q: Can the light be turned off, or is it always on?
A: You can tap the light button to turn on and off the light.
Q: The sides and top are very hot during operation. Is this normal?
A: Yes,this is normal, the refrigerator will heat up during operation, please keep air circulation around the refrigerator and avoid frequent door opening.
Q: What is the temperature range of the refrigerator?
A: The temperature setting range of the refrigerator is 34°F- 50°F
Once again, this isn't me. I am [****]. My name is not Adams. This person hacked me and my money should be returned!!
Good cooler
Received it it would not cool down past 44 degrees. Contacted seller through emails. They sent a prepaid lable through FedEx to pick up unit. Within 3 days Received new one and it works good down to 36 degrees. Lowest is 34 but I can live with it only reason 5 stars is a great seller.
REALLY COOL, but read this
awesome product, well worth the price. only things to note is that there are occasional pops from the machine (is normal and few inbetween), so get ready for tht and dont immediately suspect itll blow up lol. temp control is fairly decent too, gives u modes.
Pretty good
I bought a thermometer just to double-check the temp and, ya, it doesn't get below 50 degrees. But other than that it's convenient and it doesn't make much noise. I think the temperature issue is because of the number of drinks. If it's completely empty maybe it could get to the advertised 40 degrees?
Not cold enough
Doesnt keep it cold. Not a fridge for beer or drinks maybe can handle wine but not efficient space for it