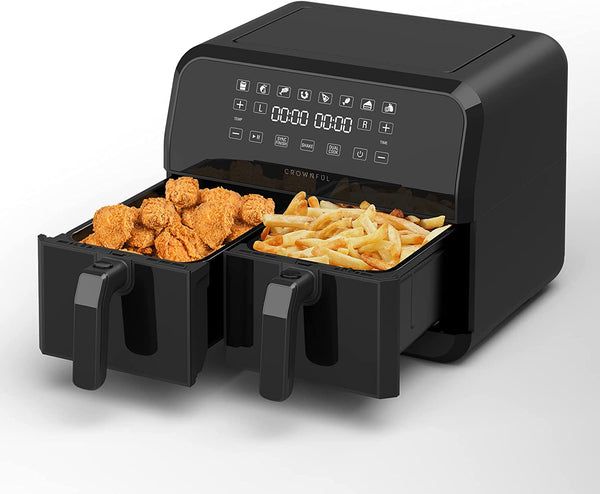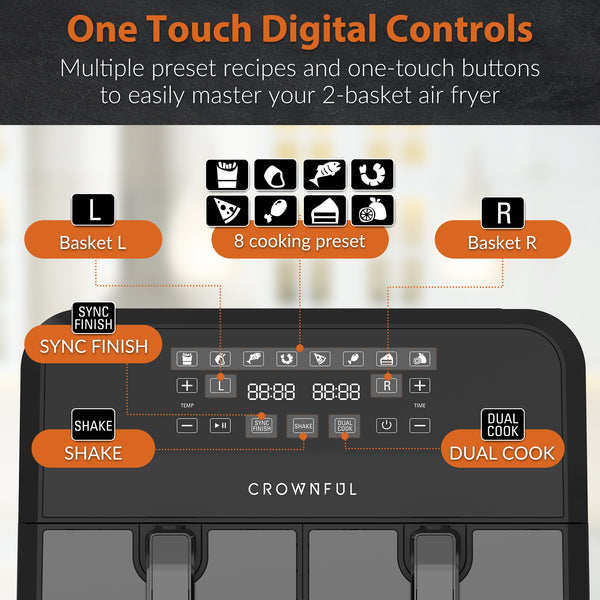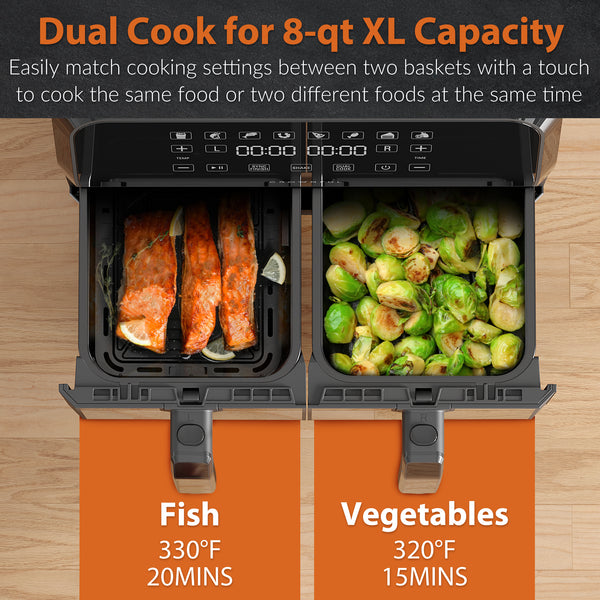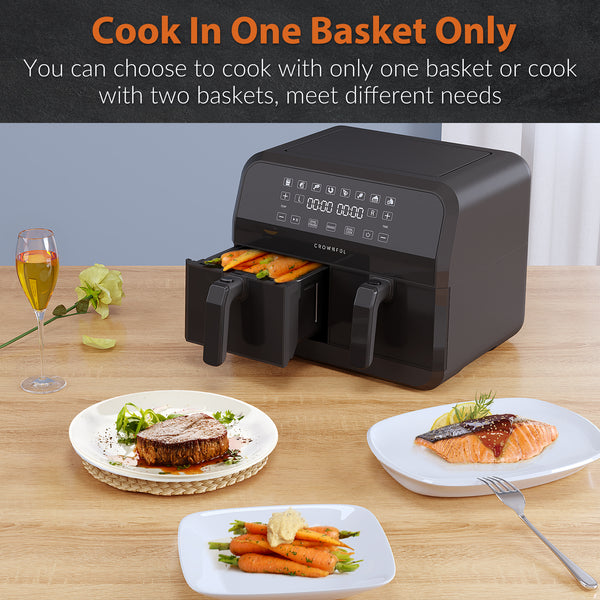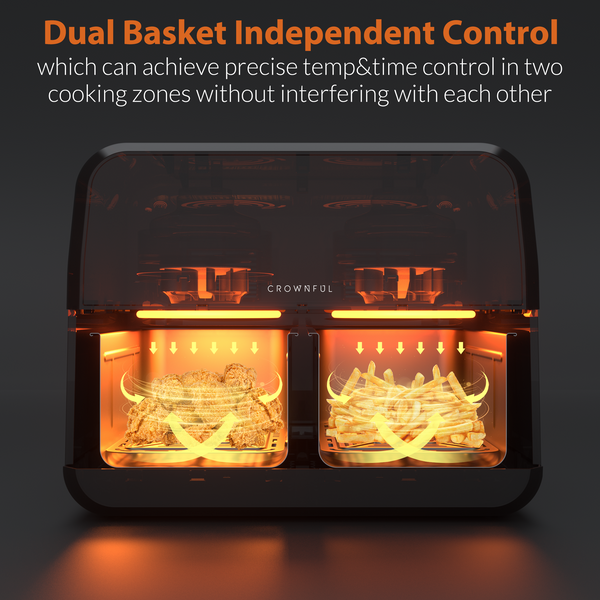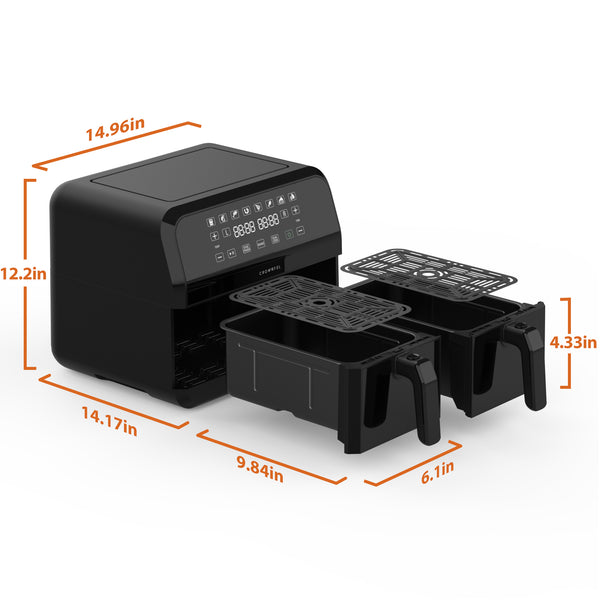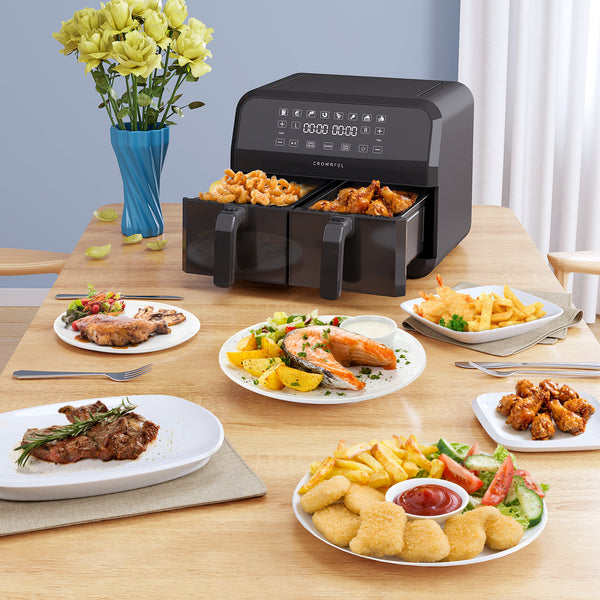 CROWNFUL 8 Quart Air Fryer, 8 in 1 Dual Basket Air Fryer with Independent Temperature Control(50+ Recipes), Dual Cook, Sync Finish and Shake Reminder Function, Dehydrate, 1700W, Black
Brand: CROWNFUL
Item Condition:New
Model:AFT08003UL
2-BASKETS AIR FRYER: The Air fryer with 2 independent baskets and an independent temperature control system, so you can cook different food in 2 ways or cook the same food at the same time, which greatly saves you time and enhances your enjoyment while cooking.

8 IN 1 FUNCTIONALITY: The CROWNFUL Double Basket Air Fryer makes life easier with its 8-quart large capacity and 8 preset cooking menu. That includes: French fries, Steak, Fish, Shrimp, Pizza, Chicken legs, Cake and Dehydration. It also has an option to adjust the time and temperature according to your recipe requirement(180-400℉/80-200℃, Dehydration Function 90-180℉/35-70℃).

SYNC FINISH AND DUAL COOK: The independent temperature control system allows you to choose the SYNC Finish function, which unlocks 2 different cooking methods for 2 different foods and finish at the same time, and a DUAL COOK Function that easily copies settings across zones to cook the same food at the same time.

HEALTHY AND EASY CLEANING: This air fryers uses rapid air technology to cook your favorite meals, which using only little to no oil, it reduces oil or fat intake by up to 80% and the non-stick basket is very easy to clean, all accessories are dishwasher safe.
PACKAGE CONTENT:
1 x CROWNFUL 2 Baskets Air Fryer
1 x User Manual
1 x 50+ Recipe Book
SPECIFICATIONS:
Voltage: AC 120V, 60Hz
Rated Power: 1700W
NOTE:
This air fryer oven only works with 120V electricity, make sure to check your outlet's power voltage before using the product if you are NOT in the US.
Q: What is the size?
A: 14.96 x 11.02 x 12.2 inches .
Q: Is the basket non-stick? Is the dishwasher safe?
A: The Air Fryer uses a non-stick inner basket that is PFOA-free. You can remove the basket and let your dishwasher do the cleaning! The detachable basket materials are PFOA-free with a nonstick surface and produce less residue cleaning. The clean-up is a breeze.
Q: Does the writing or controls on the fryer, directions rub off?
A: Nope,it is a digital display like any other touchscreen. Nothing to "rub off".
Q: Why does the air fryer display an EC code on the screen?
A: The "EC" error code indicates a communication frequency inconsistency between the chips. The solution is simple: unplug the air fryer and wait for a few seconds before plugging it back in again. Once done, the air fryer should function properly as before.
Q:Why can't I select the preset menu, time, and temperature when pressing the L/R button?
A: Please ensure that the left and right baskets are correctly installed. If the air fryer's display screen indicates the word "Pot", it implies that the basket is improperly installed. You can attempt to remove and re-install the baskets again.
Commercial offer
"Hi
I like your website. Have You Considered Selling? I would propose x27 of your monthly earnings.
Thank you
Best Regards
Dennis Demchyna
https://www.facebook.com/profile.php?id=100077635508369"
Excellent Dual Basket Air Fryer
Oh I'm in love! I love that I can cook a meat in one basket and veggies in the next at the exact same time. The food comes out crispy and/or cooked all the way through with minimal time. It is also super easy to clean, which I love. I highly recommend this air fryer