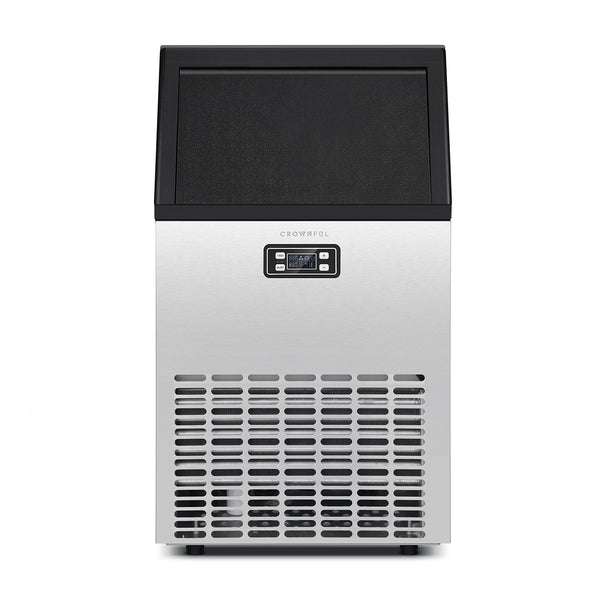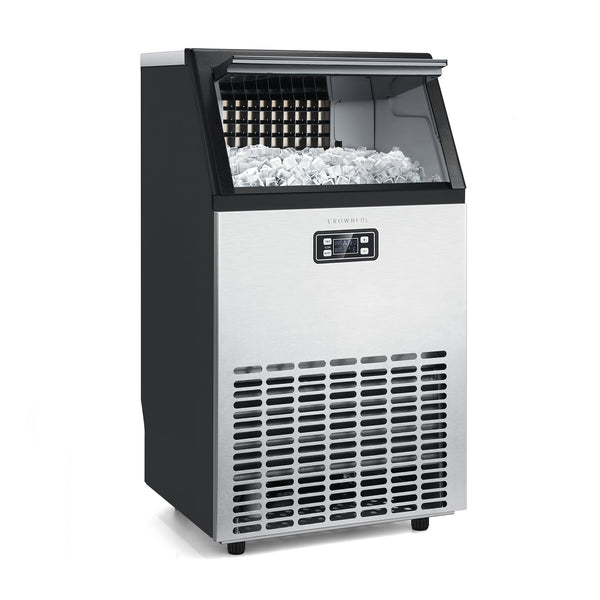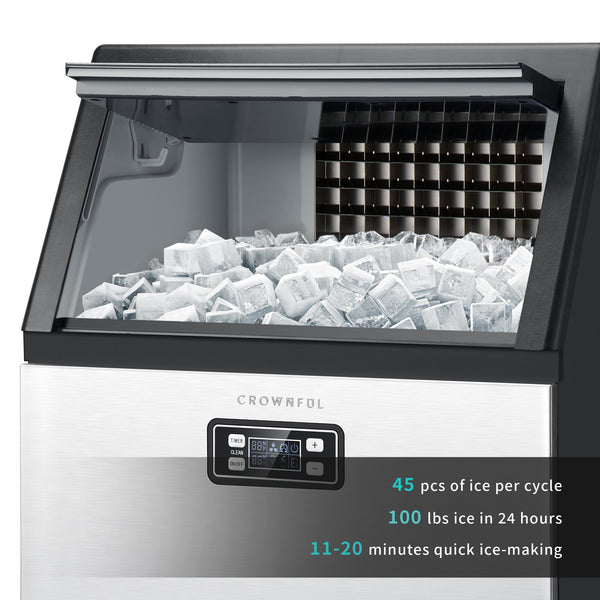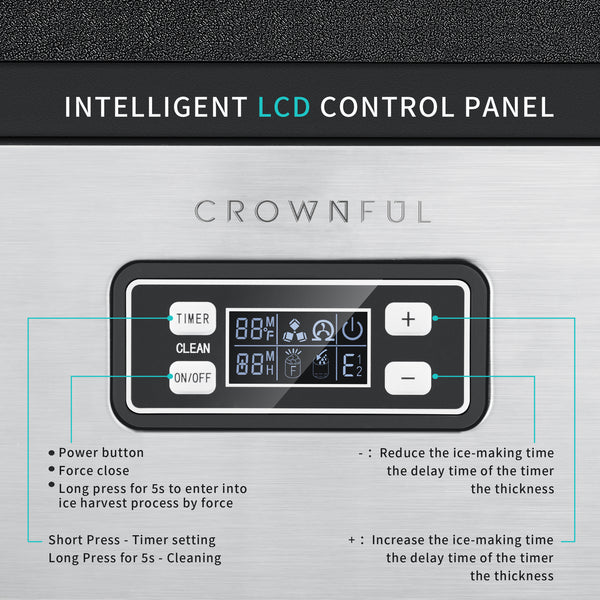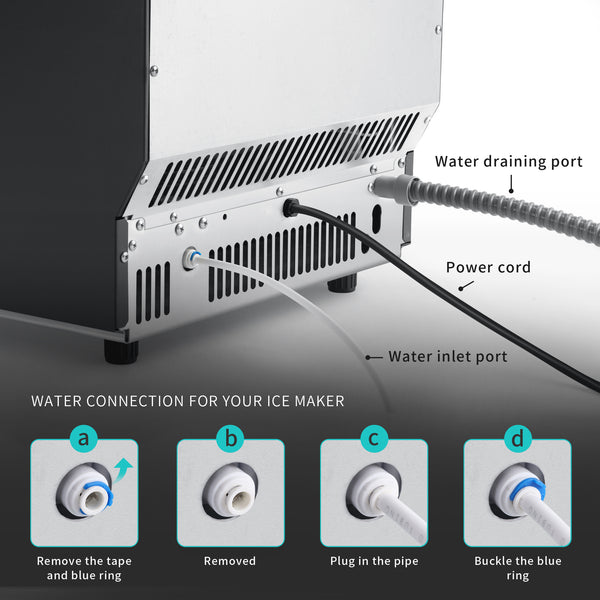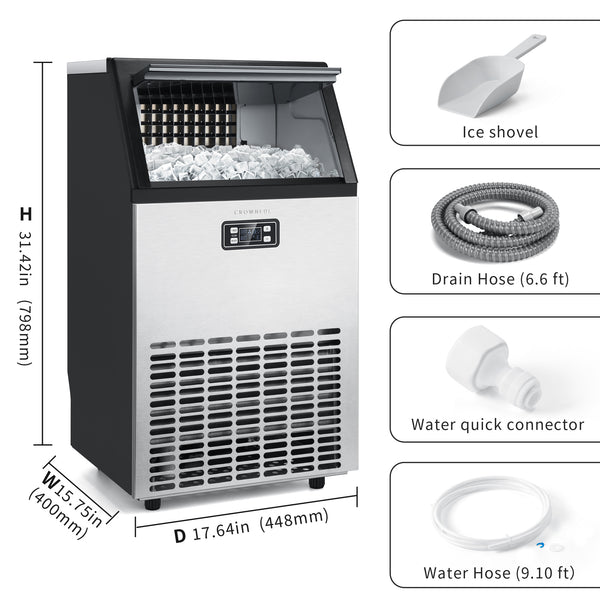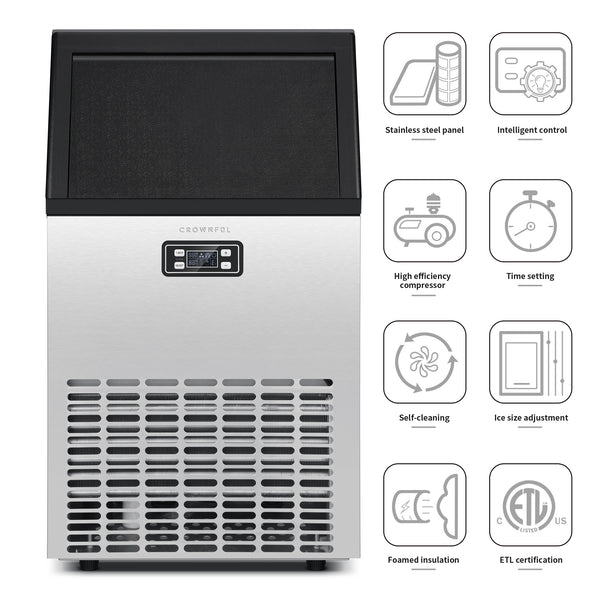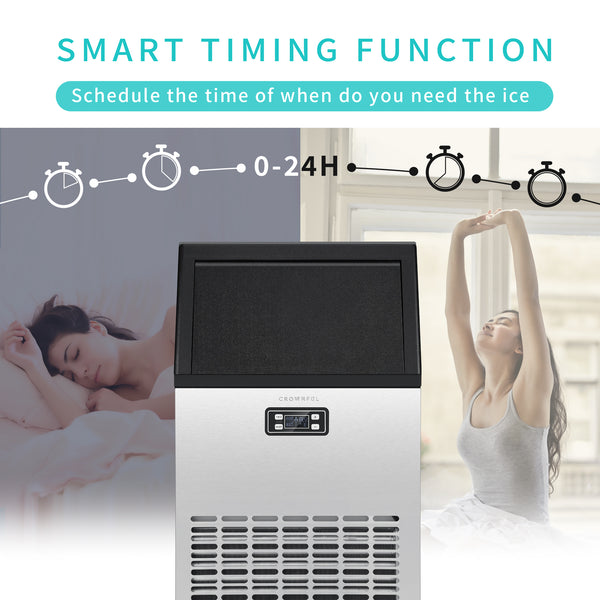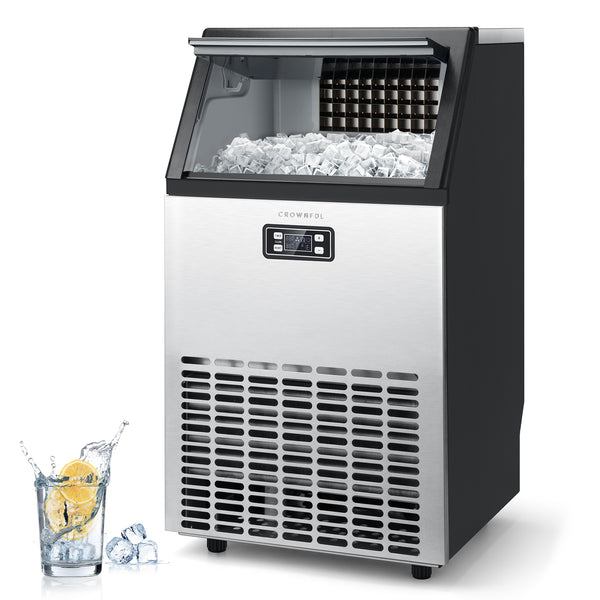 CROWNFUL Commercial Ice Maker 100Lbs/24H, Stainless Steel Ice Machine with 33Lbs Ice Storage Capacity, Free-Standing Under Counter ice Maker, Ideal for Home, Office, Restaurant, Bar, Coffee Shop

Brand: CROWNFUL
Item Condition: New
Model No: HZB-45
FAST AND EFFICIENT: The CROWNFUL commercial ice maker uses branded imported compressors, which can make 45 ice cubes per cycle in 11-20 minutes and 100lbs of ice in 24 hours. It's a fast ice making, low noise, highly efficient and low energy consumption machine which is the best choice for commercial use.

MULTIPLE FUNCTIONS: It offers different functions to serve you better: ice cube thickness option, timing, ice full reminder, water shortage reminder, automatic cleaning and other functions are available. Just press the (+) or (-) buttons to choose small, medium and large ice cube, turn-on time and shutdown time setting, control the processing of your ice making.

AUTOMATIC OPERATION: This commercial ice maker comes with a full set of accessories including water inlet pipe, drain pipe, water quick connector and ice scoop. You only need to connect the faucet and drain port to automatically add and drain water, and make ice with one button, saving you more time.

LARGE STORAGE CAPACITY: It has 29lbs of ice storage bin capacity; the thick insulating layer can extend the storage time of ice cubes, the attached ice scoop can facilitate the retrieval of ice cubes. You can put it on the hook on the inner wall after use (NOTE: the commercial ice maker is not a freezer, please transfer the ice cubes to your refrigerator for storage).

WIDE APPLICATIONS: The free-standing design allows you to install the unit in any place you want. The compact shape is best to use for homes, restaurants, bars, hotels, grocery stores, coffee shops, supermarkets, bakeries, schools, hospitals and more.
SPECIFICATIONS:

Ice Storage Capacity: 33 lbs

Production in 24H: 100 pounds

Power Source:110-120V / 60Hz

Rated Current: 2.2A

Housing: SUS430+ ABS
PACKAGE CONTENT:
1 x Ice Maker,
1 x Ice Scoop
1 x Water Drain Pipe
1 x Water Faucet Quick Connector
NOTE: This product is only works with 110-120V electricity, Please carefully review the product information to determine if this product is appropriate for you.
Q: How should I clean the machine?
A: It is recommended to use lemon water or weak acid vinegar for cleaning. Drain immediately after cleaning, and then clean it with pure water. It is recommended to drain water at least once every three days. Draining can not only ensure that the hardness of the water is not too high, but also ensure that impurities can be discharged well, and it is not easy to produce scale in the water tank.
Q: How to adjust the ice thickness?
A: If you think the ice cube is not thick enough, during ice making, press theandto set the ice making lead time. Press one time and the ice making cycle will increase or Reduce one min, 6min most. This can only start from the new cycle.
Q: Why is my ice cube cloudy?
A: It means that your water quality is turbid, it is recommended to use drinking water and distilled water. If your water quality problem is serious, it is recommended that you install a water filter kit.
Q: Why does the ice cube I made have a plastic smell?
A: The ice cube itself has no taste. If you feel there is a plastic smell, try to clean the inside of the machine with lemon water, then run a few cycles, and finally rinse with distilled water.
Q: Why is water leaking from my machine?
A: It may be that the PUA tube inside the machine fell off during transportation. You can remove the back cover of the machine and connect it by yourself. If you don't know how to operate, please contact the CRPWNFUL team.
Q: Why is there water flowing but not making ice?
A: If you make sure that the ambient temperature is not abnormal, then the refrigerant of the machine has leaked. Please provide a video or picture and send it to us, and the CROWNFUL team will help you.
Q: Why does my ice cube melt easily?
A: Because the ice maker is not a refrigerator, it does not have a heat preservation function. The high ambient temperature in summer will accelerate the melting of ice cubes. You can close the lid of the machine to keep the internal temperature. Some customers also put electric fans on the side of the machine to blow away the hot air around, thus solving the problem, you can try. However, if you are not using ice cubes for a long time, we recommend removing them from the ice basket and storing them in the refrigerator.
Not worth my time
Ice machine only made ice the first day i purchased the machine for my facility. After day would not make any more ice would just over flow with water. the machine is to complicated with buttons to even figure out what to do. The tempature on the ice machine will not go any lower than 79.
Don't buy this ice maker.
This ice machine doesn't keep stored ice frozen. You will only have cold water in the storage bin when you go to grab ice. Don't buy it.
product was damaged and still waiting on customer service to respond to my email.
I opened the box and the ice machine was damaged. I emailed the company and I am waiting for a response. I hate to give this a one star. The machine may be a great product, but the customer service needs to respond to my email.
very good product
Im really enjoying the product saves me money on ice not having to buy it every day. Really great product.
great so far !
perfect for what we use it for ! Back up ice for boating coolers