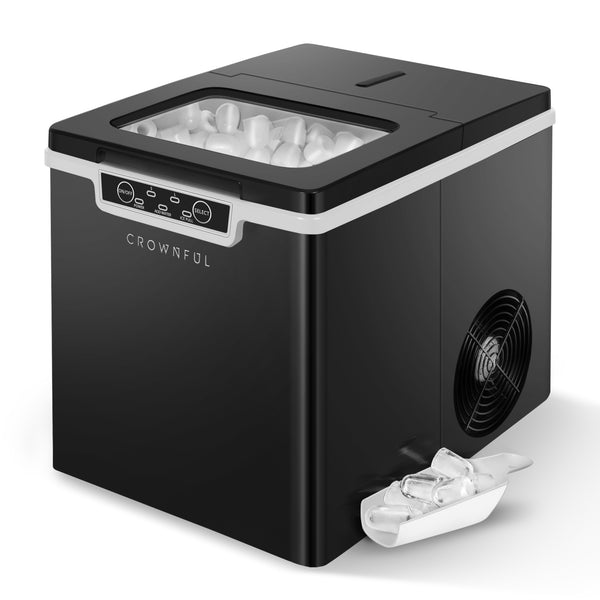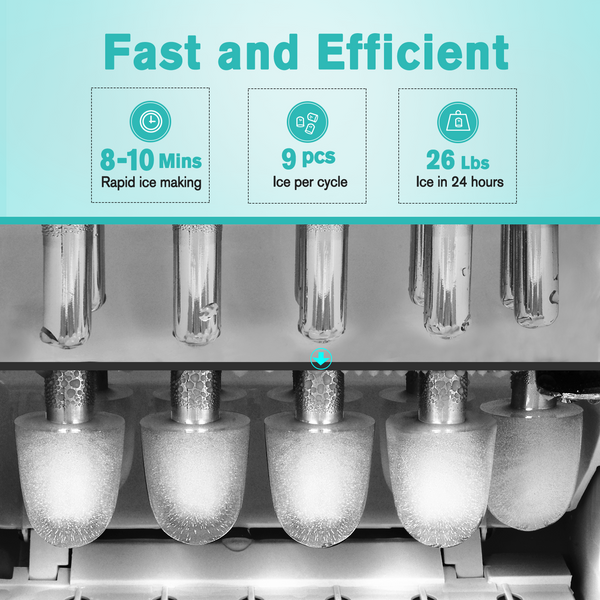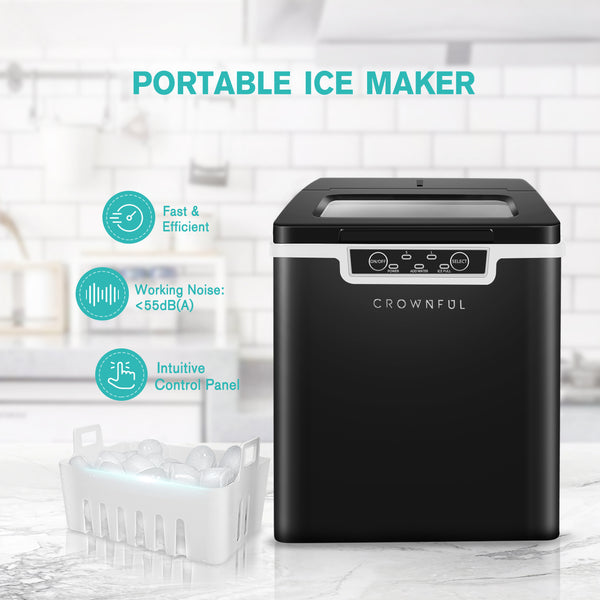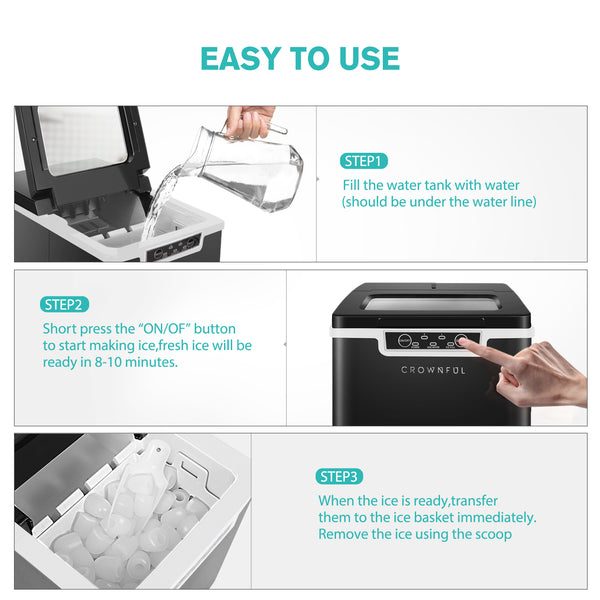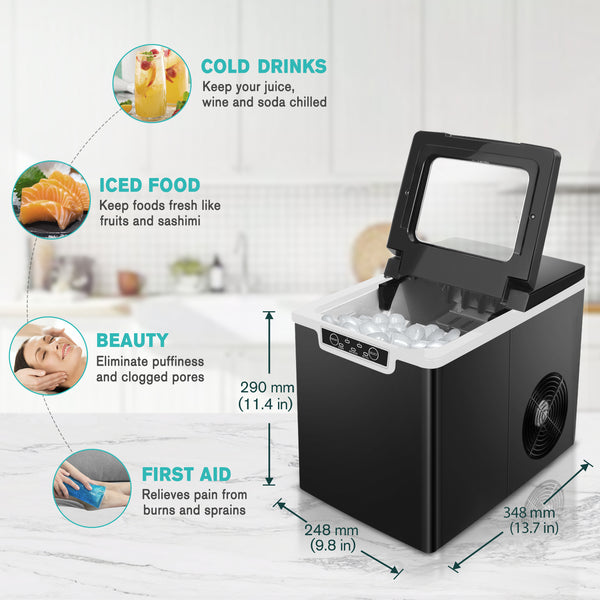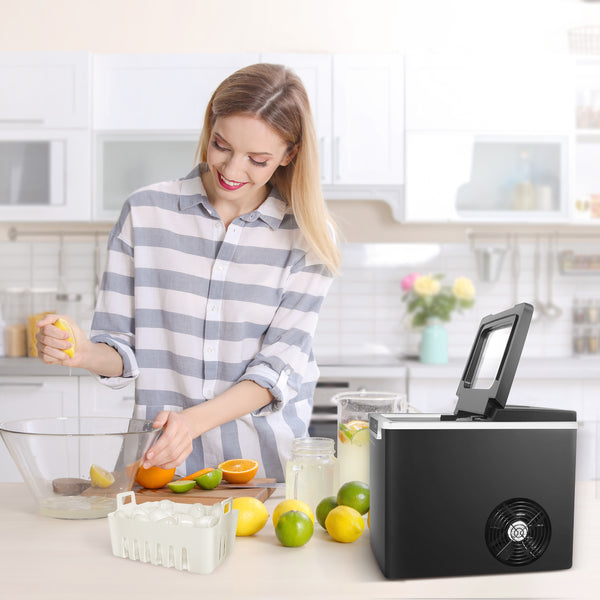 CROWNFUL Ice Maker Countertop Machine, 9 Ice Cubes Ready in 8 Minutes, 26lbs Bullet Ice Cubes in 24H, Electric Ice Maker with Scoop and Basket - Black
Brand: CROWNFUL
Item Condition: New
Model No: EP1069T-UL
EFFICIENT ICE MAKER: The Crownful Portable Ice Maker has a built-in 1.8L large reservoir and produces up to 9 pieces of ice cubes in just 8-10 minutes and up to 26lbs in 24 hours. The melted ice water will flow into the reservoir again and will be used for the ice-making process. It is energy-saving and works efficiently.

SMART REMINDER: The ice maker will automatically alert you when the ice is full. The sensors will automatically detect and stop making ice when ice is full; the moving ice basket makes the ice cubes more convenient to take. Please note the ice maker is not a freezer. You need to use the ice ASAP or transfer it to your freezer.

TRANSPARENT LID: The transparent lid allows you to clearly see the ice making process and the remaining water amount inside without opening the cover.

TWO ICE SIZES SELECTABLE: This ice machine has two ice sizes to choose from. Different ice cube sizes are suitable for a variety of beverage needs. Large ice cubes are not easy to melt and small ice cubes are ideal to cool drinks quickly. Simple and compact style is perfect for home/party/office/RV.

WARRANTY & SUPPORT: Crownful offers a 12-month warranty and lifetime support. Customer Satisfaction is Our TOP priority. Ice makers may have a non-returnable issue, please contact us directly if you need return assistance.



 
SPECIFICATIONS:
Water Reservoir Capacity: 1.8L

Ice Basket Capacity: 0.8L

Production in 24H: 26 pounds

Power Source:120V / 60Hz

Rated Current: 1.7A

Housing: ABS
PACKAGE CONTENT:
1 x Ice Maker
1 x Ice Basket
1 x Ice Scoop
NOTE:This product is only works with 110-120V electricity, Please carefully review the product information to determine if this product is appropriate for you.


Q: Why is there water flowing but not making ice?
A: If you make sure that the ambient temperature is not abnormal, then the refrigerant of the machine has leaked. Please provide a video or picture and send it to us, and the CROWNFUL team will help you.
Q: Why is the ice cube small and wet?
A: The refrigerating system will be unstable just after starting. So the ice in the 1-3 cycles maybe smaller and wet. But when the machine works more cycles, the refrigerating system will be more stable and the ice will be normal.
Q: Why the "add water" indicator turns on though it's full of water?
A: Please empty the tank first, refill the pure water and try again; Clean the unit.
Q: Why the "ICE FULL" indicator lights up though it's not full of ice?
A: 1. Remove the ice from the ice basket. 2a. Please clean the sensors located on the sides and restart the ice maker. 2b. Call Customer Service.
Q: Why does my ice cube melt easily?
A: Because the ice maker is not a refrigerator, it does not have a heat preservation function. The high ambient temperature in summer will accelerate the melting of ice cubes. You can close the lid of the machine to keep the internal temperature. Some customers also put electric fans on the side of the machine to blow away the hot air around, thus solving the problem, you can try. However, if you are not using ice cubes for a long time, we recommend removing them from the ice basket and storing them in the refrigerator.
Q: How often should I replace the water?
A: We suggest replacing the water every 24 hours. Please empty the water reservoir if the ice maker is not used for a long time.
Q: Why does the ice cube I made have a plastic smell?
A: The ice cube itself has no taste. If you feel there is a plastic smell, try to clean the inside of the machine with lemon water, then run a few cycles, and finally rinse with distilled water.
Q: How should I clean the machine?
A: It is recommended to use lemon water or weak acid vinegar for cleaning. Drain immediately after cleaning, and then clean it with pure water. It is recommended to drain water at least once every three days. Draining can not only ensure that the hardness of the water is not too high, but also ensure that impurities can be discharged well, and it is not easy to produce scale in the water tank.
Not a good buy
I purchased this machine on Amazon worked fine for a year and then after that it no longer works. I'm outside the warranty reached out to customer service. They gave me some ideas to troubleshoot etc. once I told them none of that was working they basically told me tough cookies because it's well outside the warranty to be replaced. I need to get a new one hopefully I can find one that will last longer than a year and a half
Thanks for making things right.
Update - Crownful has made this right and refunded the purchase. I am so happy with the response and emails I received from the company. I will not only be buying another ice machine, I will be buying a larger one since we determined this one was to small for us. Thank you so much Crownful for responding and making things right. You have been fantastic with this issue. I only left of the one star due to the device did stop working before a year was up, otherwise you would have gotten the full 5. I look forward to my new purchase and giving a full 5 stars.
Very Disappointed
Verified Purchase on Amazon
Have not had the machine a full year and it has quit working. I have tried to contact the company on multiple occasions without any response. I loved it in the beginning when it was working. It was great. Then the tray quit moving to dump the ice and the machine would not make ice anymore without the tray working. I was actually thinking of buying another one until this happened.
Great little ice maker
CROWNFUL Ice Maker Countertop Machine. Makes ice really fast, works great for our needs. Good price. Yes I would recommend this product.
Quick
Really impressed how quick it works. Cubes do melt pretty fast so I put some in freezer to give cubes a little longer lasting. Pays for intel for in a couple weeks not having to purchase at store. NOT TO MENTION GAS BEING USED TO DTRVE THERE.