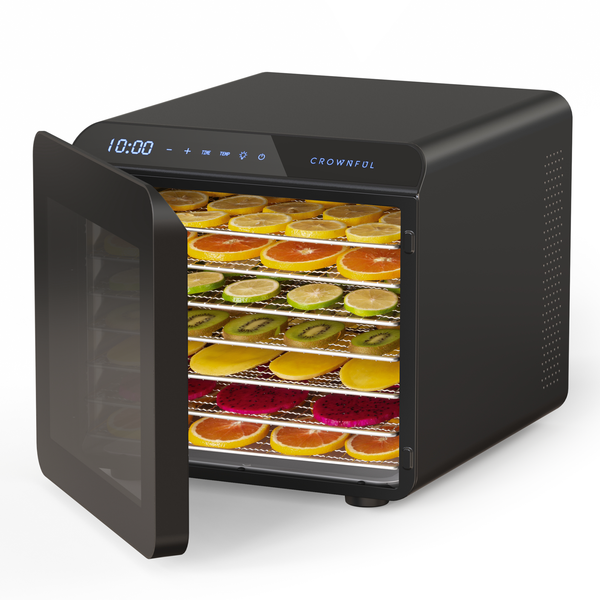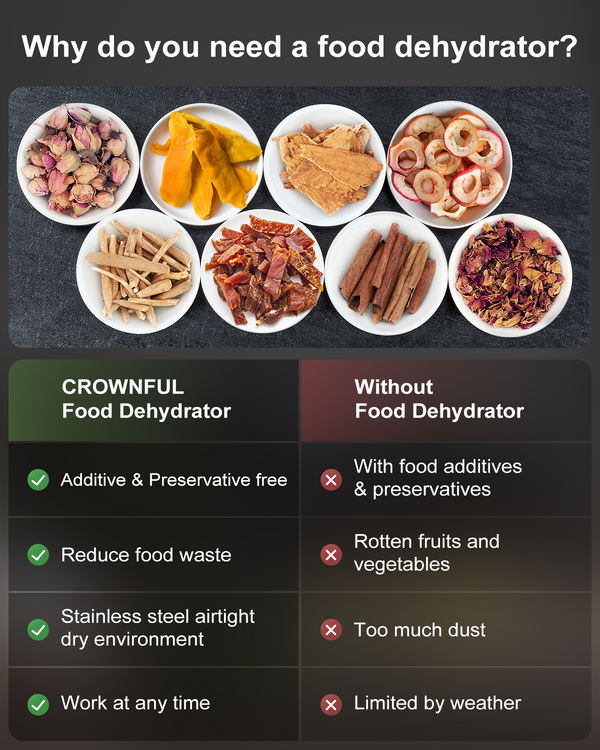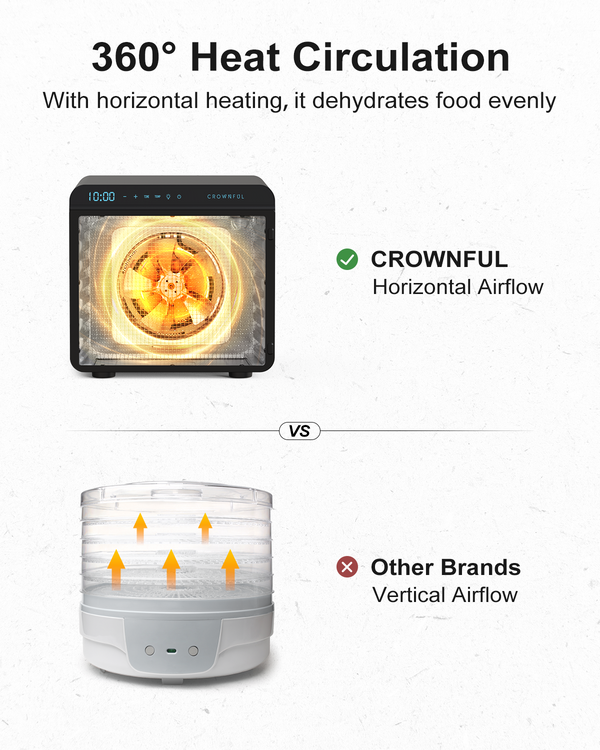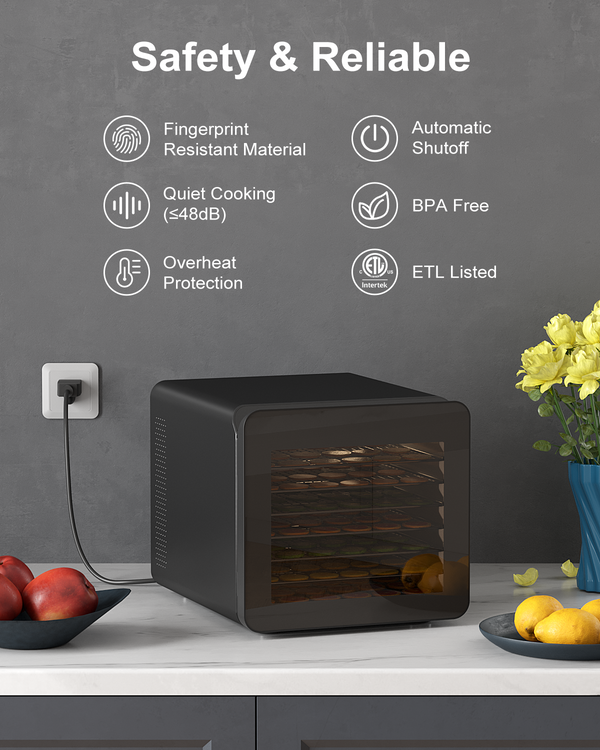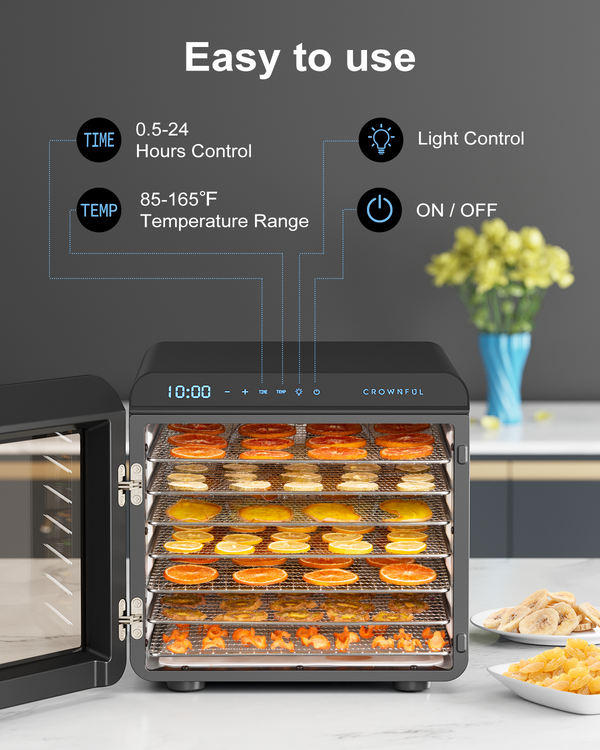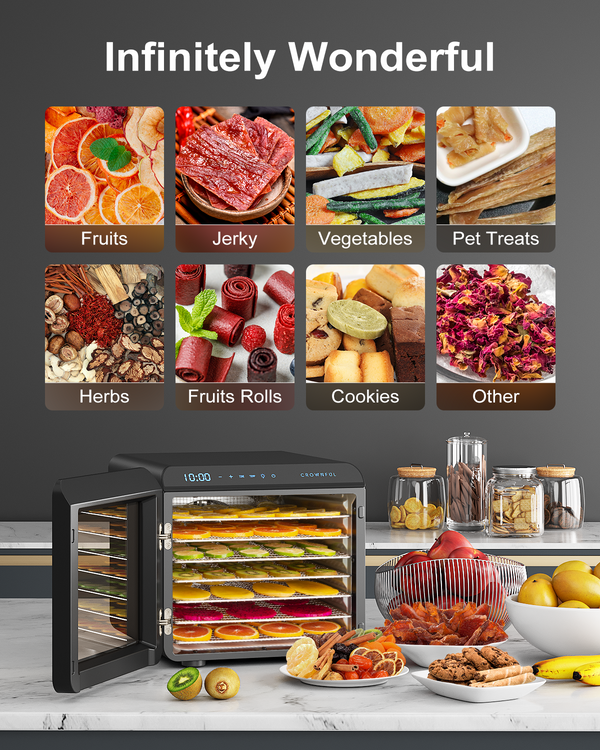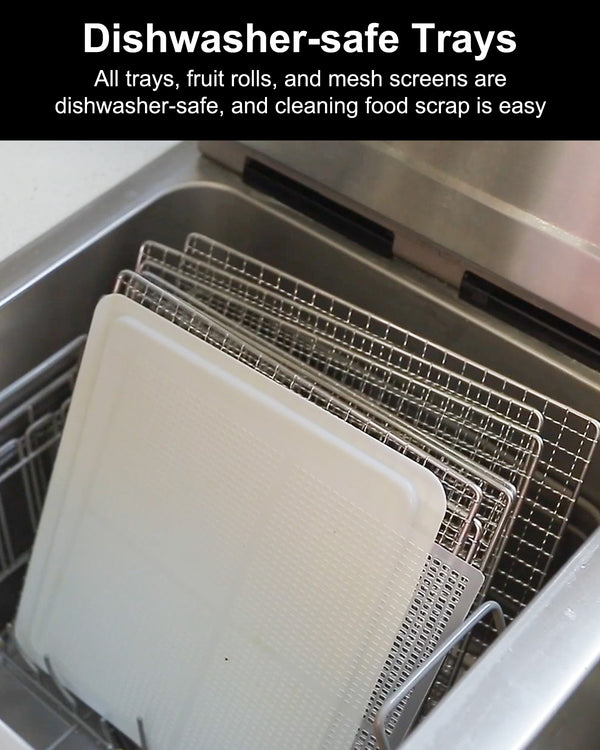 CROWNFUL Food Dehydrator Machine, 7 Stainless Steel Trays, Dryer for Jerky, Vegetable Fruit, Meat, Dog Treats, Herbs, and Yogurt, Equipped Safety Over-Heat Protection, Digital Timer and Temperature Control, ETL Listed, 30 Free Online Recipe, Black
Brand: CROWNFUL
Item Condition: New
Model No: ‎CF-FD01
🥝【Uniform & Efficient Drying 】Equipped with 600 watts of power, a rear-mounted fan, and 360° hot air circulation technology to promote even drying. Compared with a freeze dryer machine, this dehydrator can make more delicious food much faster and more cost-efficient. The electric food dryer's noise level is ≤48dB, so no worries to be stuck listening to noise while homemade snacks dry.

🍋【Adjustable Temperature & Timer 】Use the digital touchscreen buttons with fingerprint-resistant control panel to set the timer in 30-minute increments for up to 24 hours. The dehydrator will automatically shut off when its countdown timer is up. The dehydrator unit has an accurate temperature setting between 85-165℉ and dehydrates food to perfect at optimal temperature and time duration to ensure you have your delicious food.

🥩【Safety & Light Control】Dehydrator made with BPA-FREE material & food-grade stainless steel, safe & durable material. All trays are easy to clean, odorless, and removable. The unit features auto-shutoff and overheat protection to prevent from overheating and other safety issues. It automatically shuts off when the drying process is completed, making the food dryer dehydrator safe to use. There are lights inside the machine that can clearly monitor the dryness of the food.

🍀【Sustainability & Ingenuity】Simple shapes and soft corners that's more adaptive to the contemporary home style. From product design to packaging to materials we use, we do everything we can to reduce the negative impact.

We won the IF Design Award 2022 for our well-designed function and structure.

About "Online Recipe" we encourage you to join our advocacy in caring and promoting paperless actions, reduction of carbon footprint and minimizing paper waste. 

🍎【Warranty & Support】 CROWNFUL offers a 12-month warranty and lifetime support. Customer Satisfaction is our TOP priority. If you have any problems, please feel free to contact us. Get this as a heartwarming gift, save money & time, and enjoy healthy homemade snacks by using this home appliance. Ideal for people with allergies as there are no preservatives!
PACKAGE CONTENT
1 x Food Dehydrator
7 x Trays
1 x Mesh Screen
1 x Fruit Roll Sheet
1x Recipe Card (Online Recipe)
SPECIFICATIONS
Model: CF-FD01
Voltage: AC 120V, 60Hz
Rated Power: 600W
Net Weight: 17.64lb
Unit Size(L*W*H): 15.94 x 13.39 x 12.2 inches
NOTE: This product is intended for sale in the US. only works with 120V electricity, Please carefully review the product information to determine if this product is appropriate for you. 
Q: 1) The drier does not work/does not heat up. 2) The indicator light does not light up.
A: 1) Check whether the socket and the power cord plugs are well connected. 2) Check whether the power cord is in good condition. If the power cord is damaged, it must be replaced by the manufacturer or its maintenance department, or similar professionals to avoid danger. 3) Please contact our customer team at support@crownful.com.
Q: "E1" or "E2" appears on the display.
A: The dehydrator may be damaged. Please contact our customer support team at support@crownful.com.
Q: Foods are dried unevenly.
A: 1) Cut foods evenly to ensure that they all finish drying at the same time. Avoid overlapping food. 2) Follow the recipes and tips in the Recipe Book.