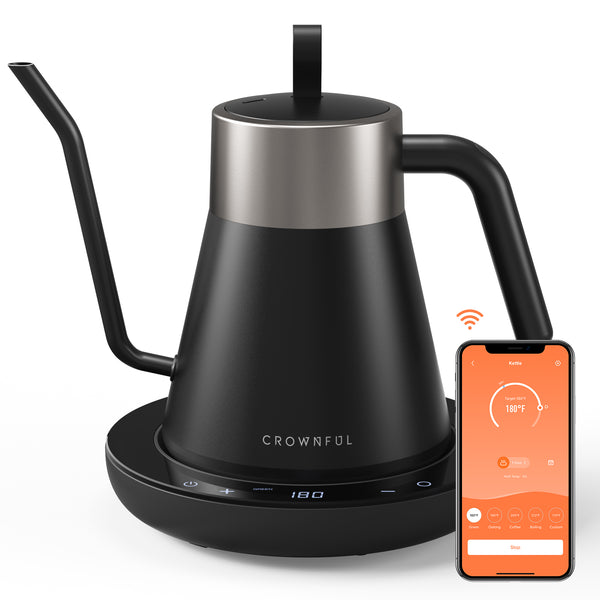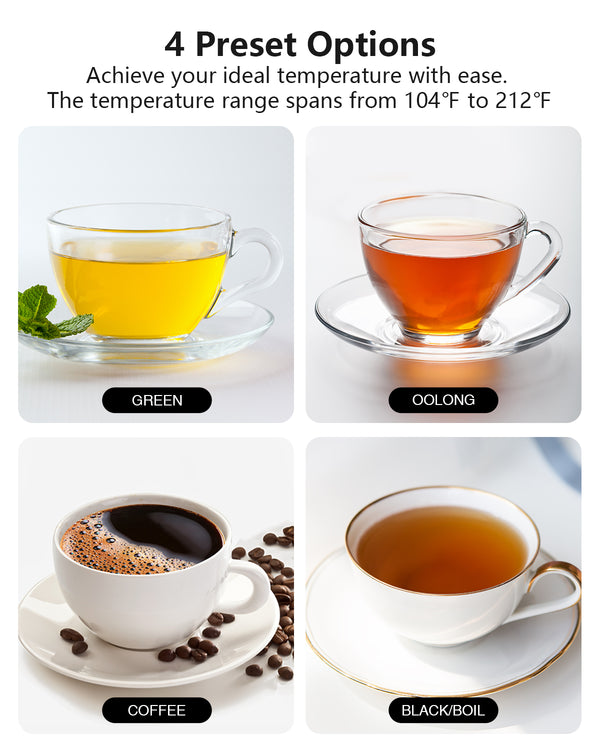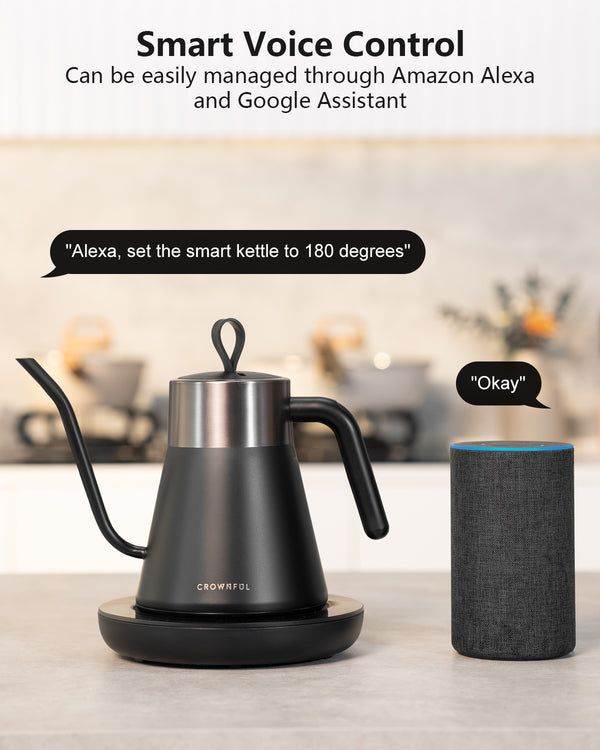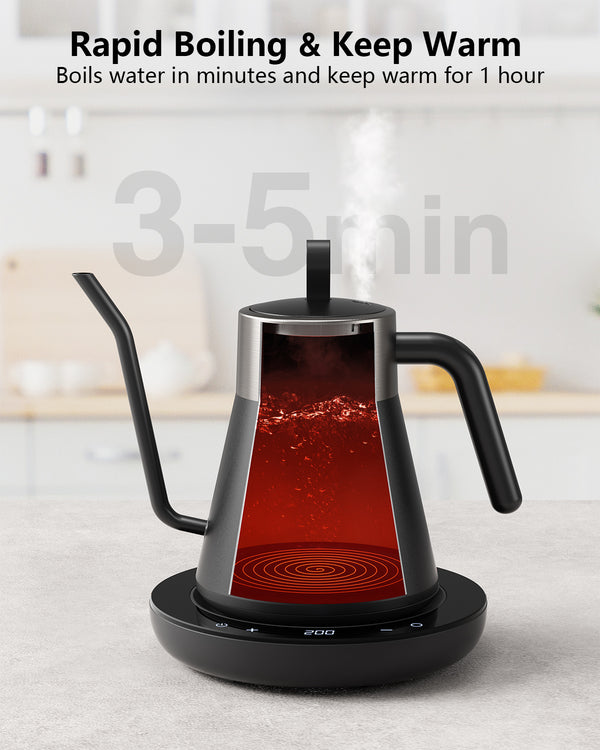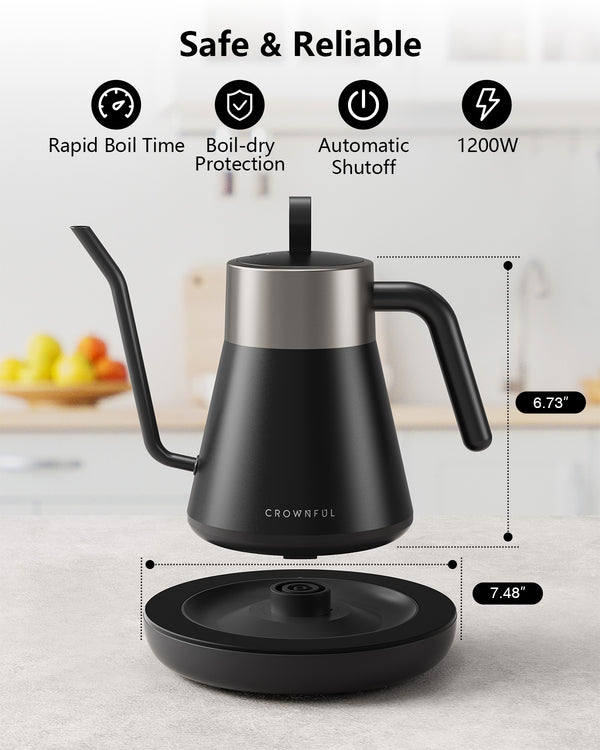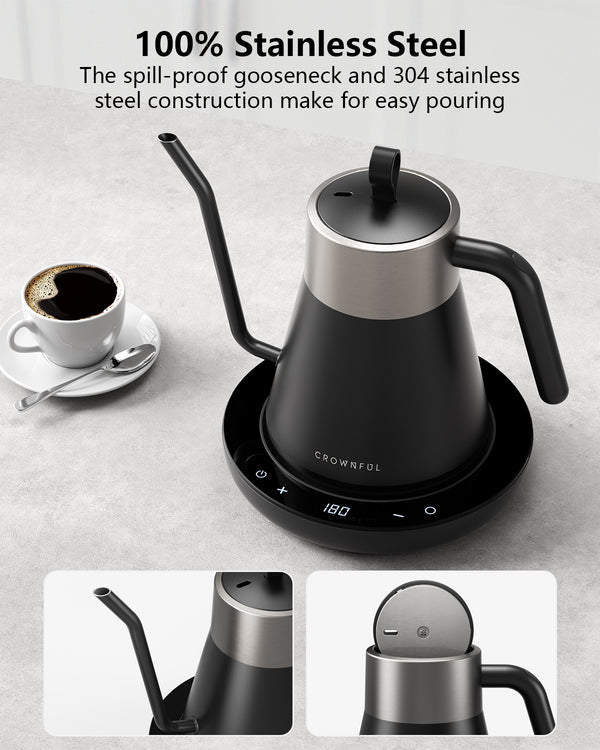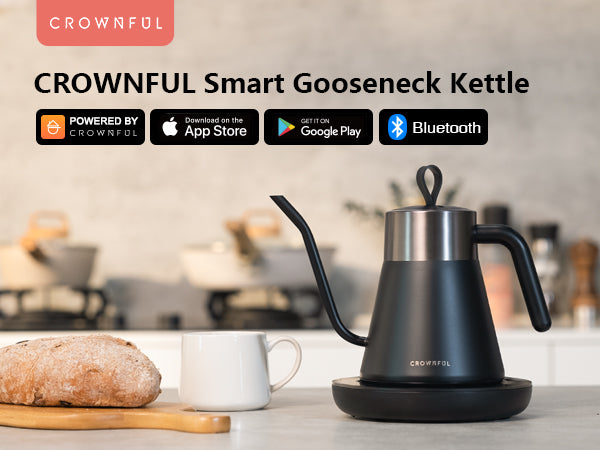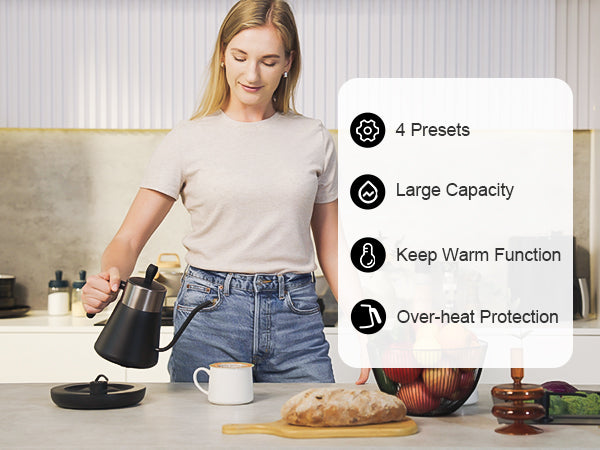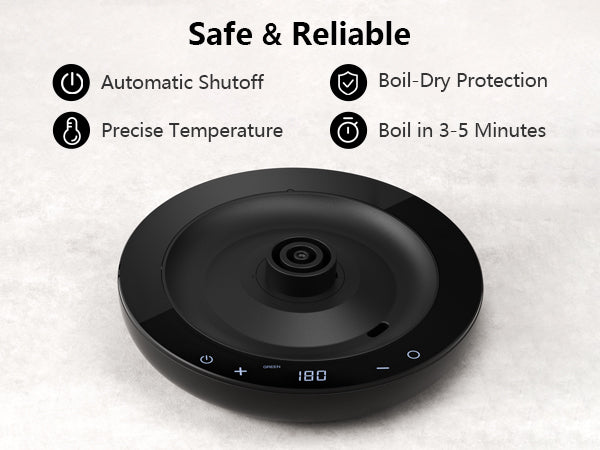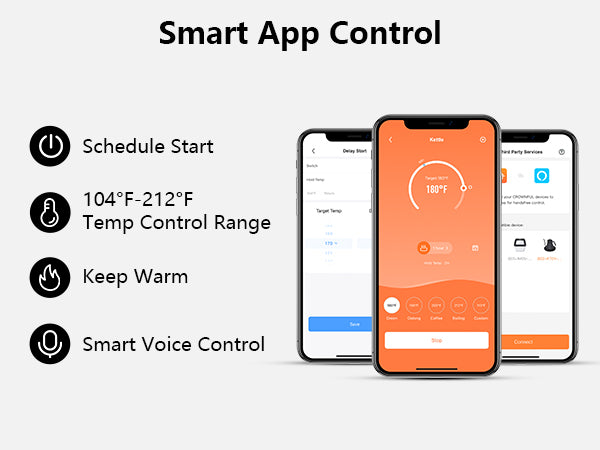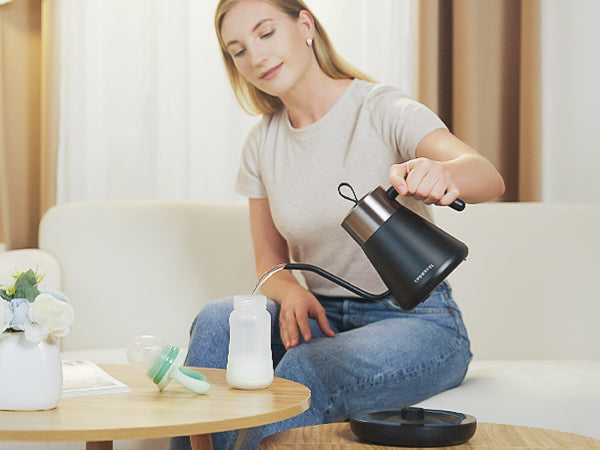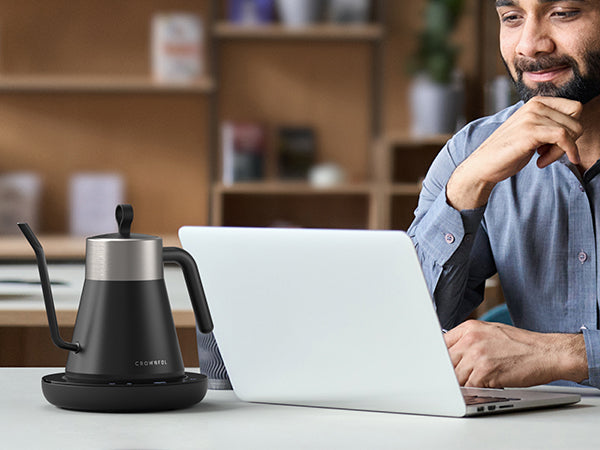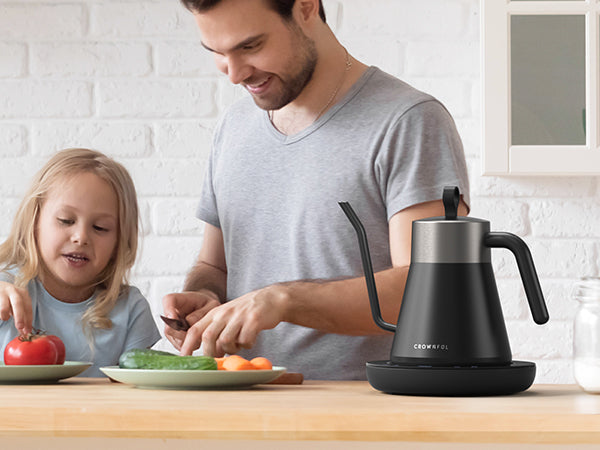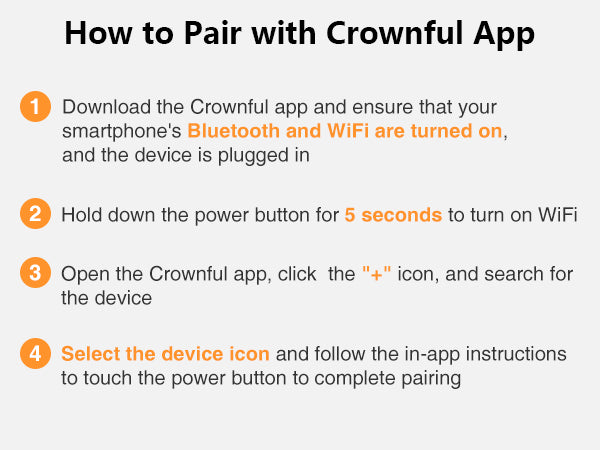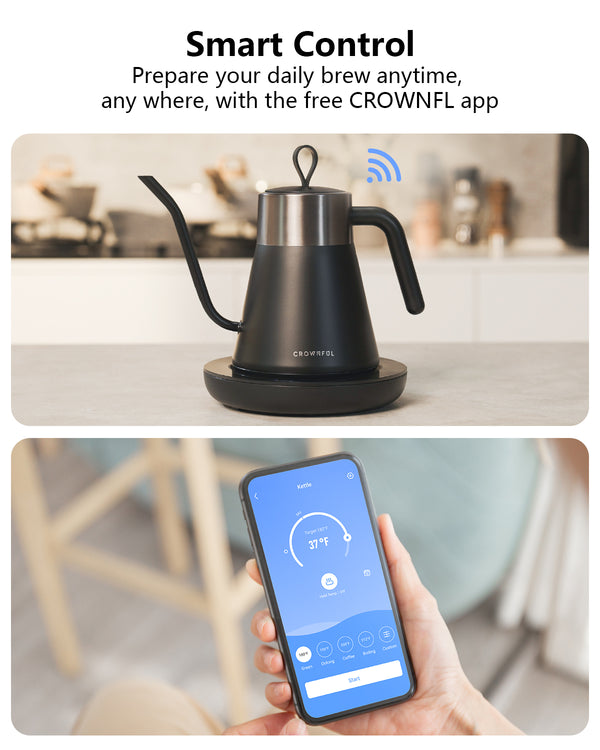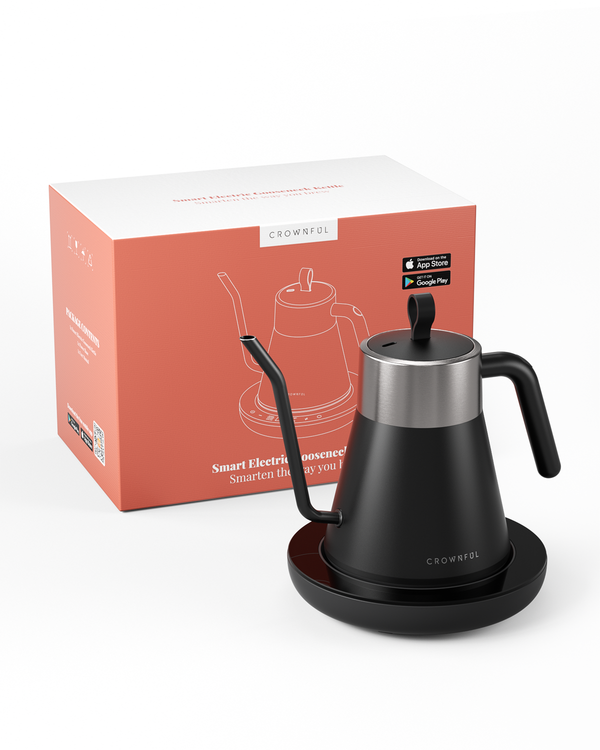 CROWNFUL Smart Electric Gooseneck Kettle with Variable Temperature Control, Pour Over Coffee Kettle and Tea Kettle, Alexa Control, 1200W Quick Heating, 100% Stainless Steel, 0.8L Capacity, Matte Black
Brand: CROWNFUL

Item Condition: New
Model Number:  CF-KT01
【Smart Voice & App Control】With the free Crownful app, you can easily control your smart electric kettle's temperature, connect it to Bluetooth, and schedule when you want it to start heating. The app's control range is not limited by distance, and you can even set it to hold a specific temperature. Plus, you can conveniently schedule a time for your water to boil.

【4 Easy Presets & Keep-Warm Control】Brew coffee and tea to perfection with the Electric Gooseneck Kettle and its accompanying app, which allows you to set your desired temperature precisely from 104°F to 212°F. Additionally, the Keep-Warm function ensures that water stays at your desired temperature for up to an hour, making this kettle the ultimate brewing companion.

【Rapid Boil】The 1200W electric kettle rapidly heats up 0.8L/0.85-quart of water within 3-5 minutes, enabling you to savor a steaming cup of coffee instantly. You can effortlessly monitor the heating process via the Crownful app in real time. The device comes with accurate temperature control, allowing you to enjoy your water at your preferred temperature.

【Precision Pour】The long gooseneck spout design ensures an optimal pour overflow rate. The pour-over kettle's balanced body built and counter-balanced handle offers a sturdy grip that encourages a slower pour. Moreover, the attractive design of the kettle can add to the decor of any kitchen, making it a perfect addition to your home.

【Built for Taste and Safety】This tea kettle is made with 304 food-grade stainless steel and has an NTC temp sensor for accurate temperature control. It also has an auto shut-off feature that activates once the water reaches your desired temperature. Additionally, the kettle will automatically turn off when the water dries out to ensure safety.

【1°F Precise Temp Control】Set the desired temperature between 104°F to 212°F and monitor in real time on the free Crownful app. With precise temperature control, enjoy your water to the exact degree that you want.

【Ideal Family Gift】Crownful Wifi electric kettle is the perfect gift for tea and coffee enthusiasts, making it an ideal present for occasions such as Mother's Day, Father's Day, Thanksgiving, and Christmas.

【Warranty & Support】CROWNFUL is committed to providing excellent customer support and offers a 12-month warranty for any quality-related issues with our electric kettle. We prioritize customer satisfaction and encourage you to contact us with any concerns or needs related to our product.
PACKAGE CONTENTS:
1 x CROWNFUL Smart Electric Gooseneck Kettle
1 x  Power Base
1 x Free Crownful App
1 x User Manual
SPECIFICATIONS:
Voltage: AC 120V, DC 12V
NOTE: This product is intended for sale in the US. Please carefully review the product information to determine if this product is appropriate for you.
How should we descale?
1. Fill the kettle with 1 cup of vinegar or lemon juice and 2 cups of water. 2. Boil the liquids and leave it for 2 hours. 3. Rinse the kettle with clean water, and dry with a soft, clean cloth. 4. Repeat as needed.
When hard water is used, the bottom of a tea kettle may develop spots or rust. Is this harmful to one's health?
Hard water is water that contains calcium or magnesium mineral ions often in the form of carbonate. These ions do not pose any health threat.
What is the temperature range for the electric kettle?
Between 104°F to 212°F
What's in the box?
1 x CROWNFUL Smart Electric Gooseneck Kettle; 1 x Power Base; 1 x Free Crownful App; 1 x User Manual