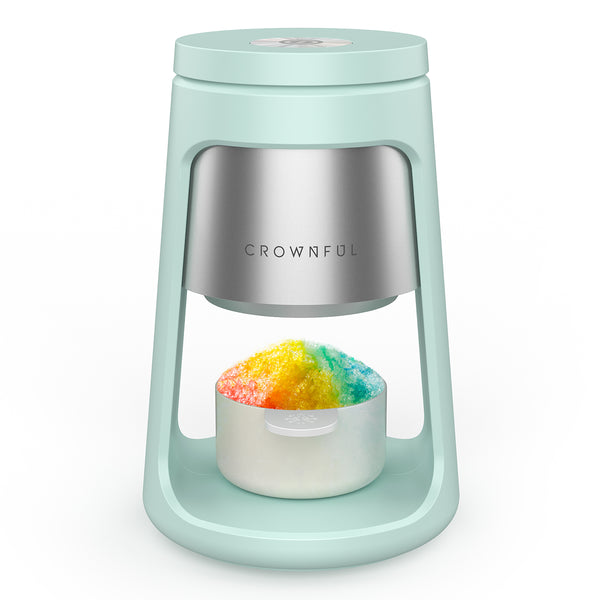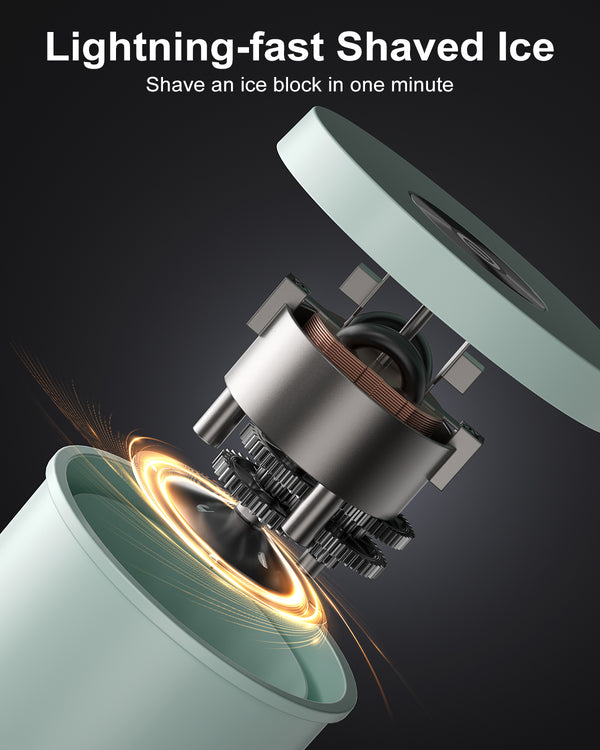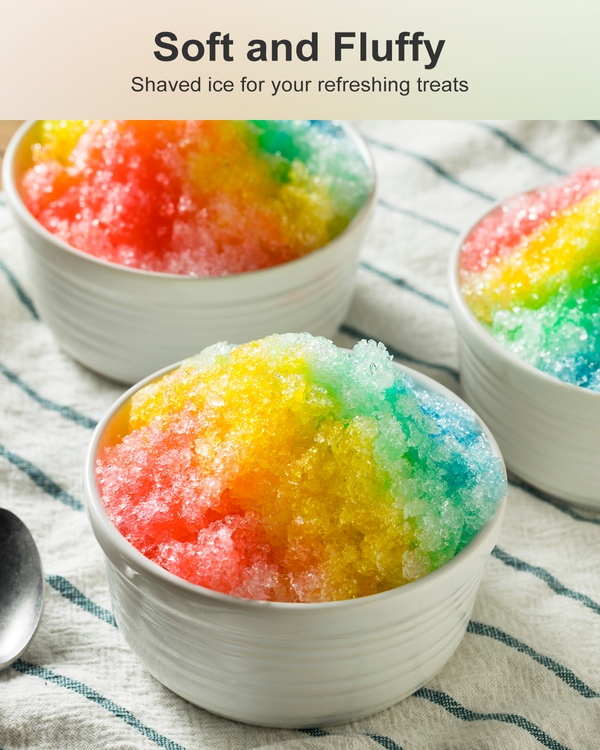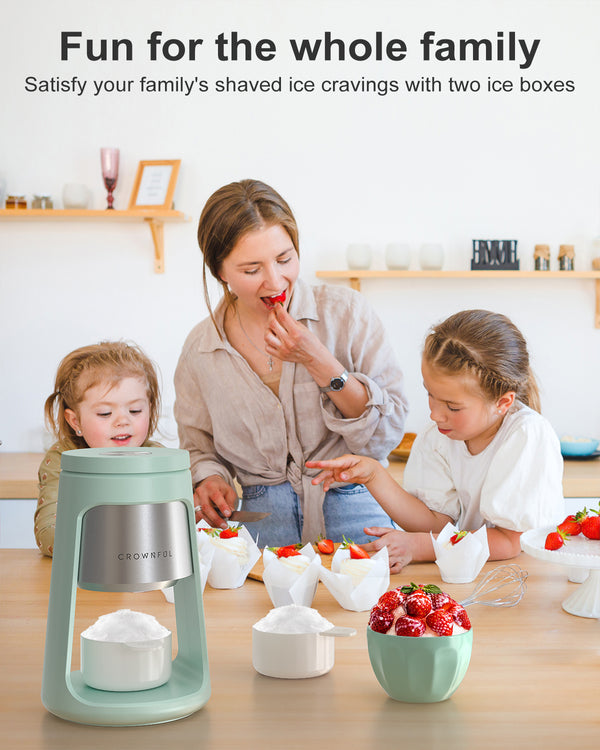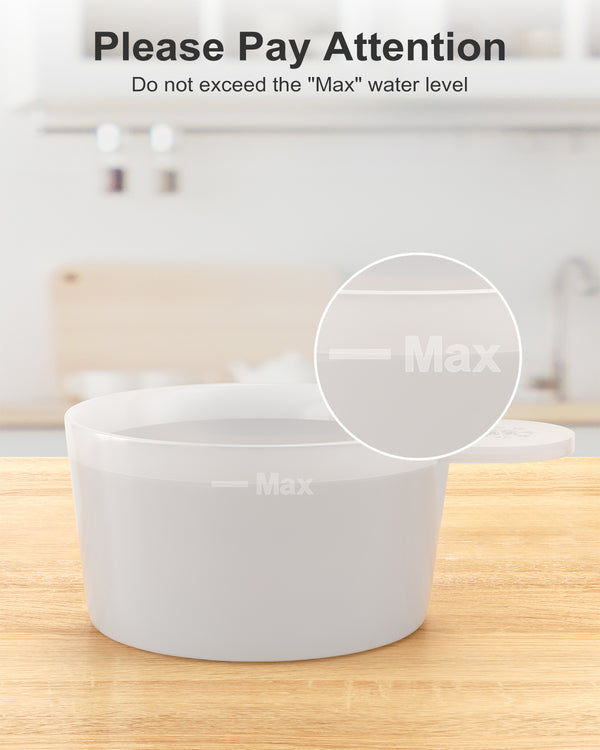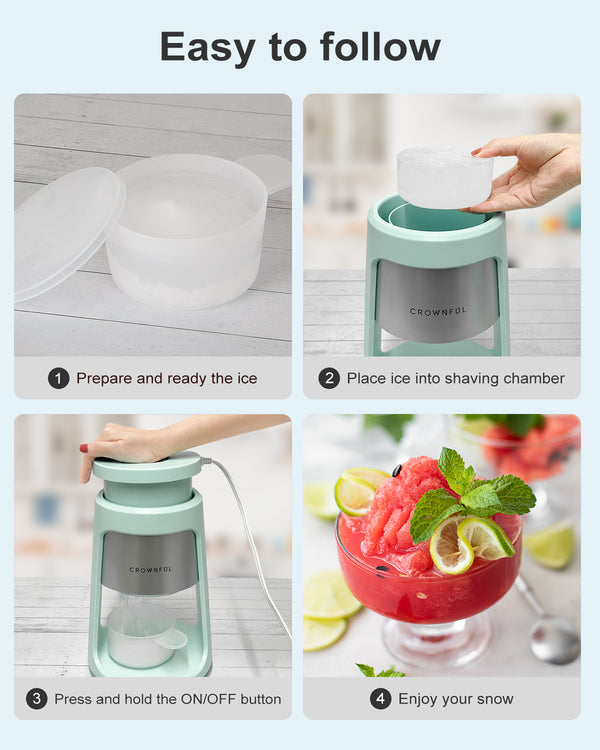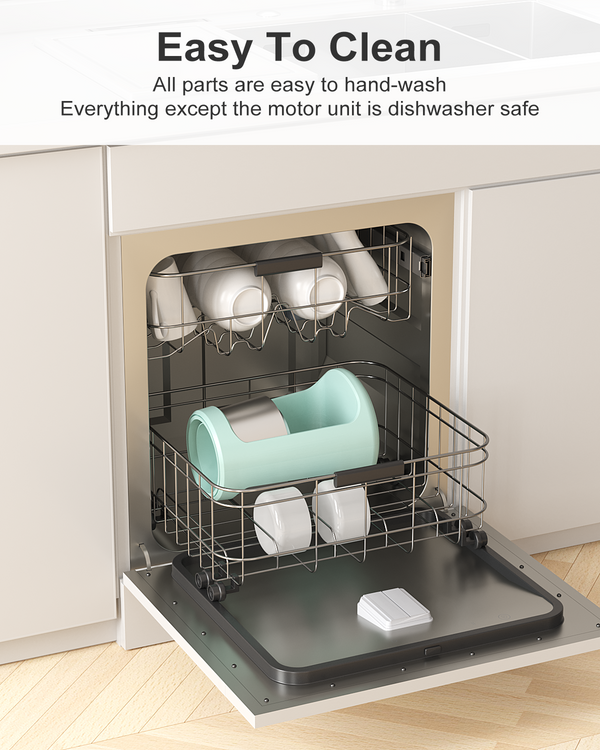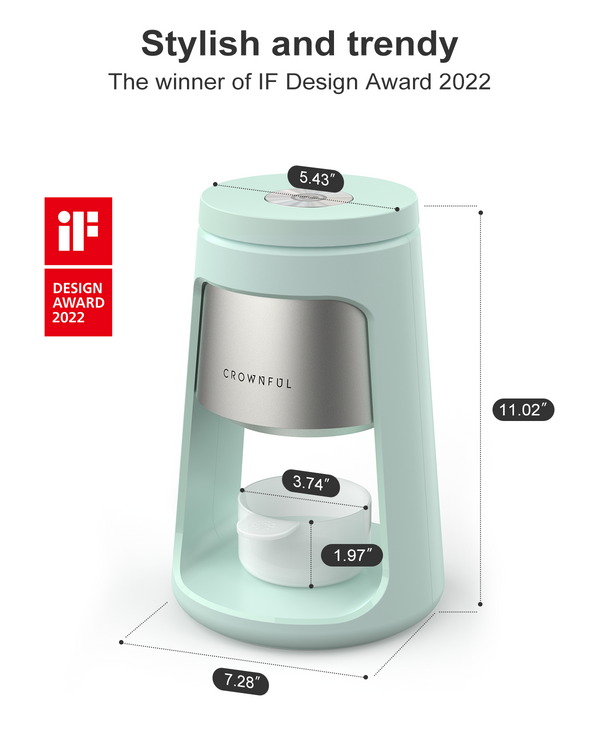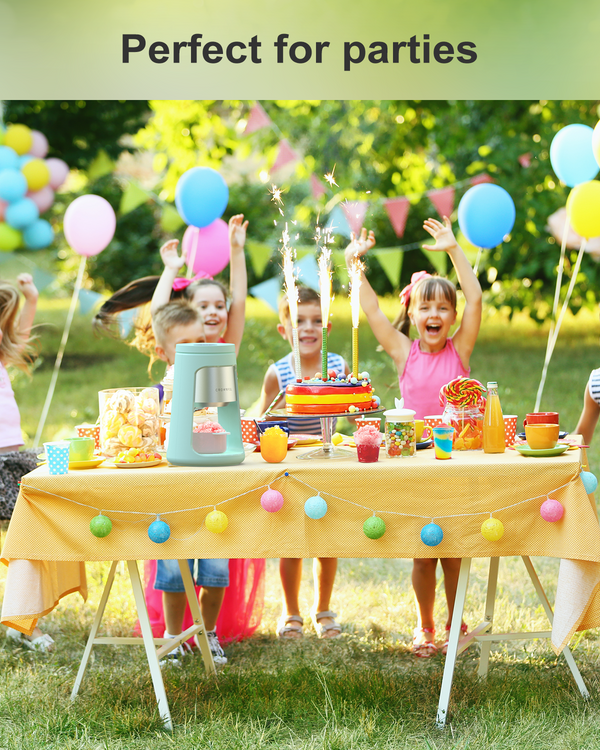 This ice shaver comes with two ice boxes, which can meet the needs of the whole family. With a stylish and simple appearance, it is the perfect complement to your kitchen counter. Come with your kids and make a variety of shaved ice!
Brand: CROWNFUL
Item Condition: New
Model: LQ-M21006A1
[Texture fluffy & versatile] This snow cone maker can produce soft and fluffy shaved ice that is perfect for making slushies, snow cones, frozen cocktails, and more. Follow the tips in the manual to create the best tasting shaved ice possible.

[Fast shaved ice] This particular ice crusher boasts a powerful electric motor and sturdy stainless steel blades, allowing it to effortlessly shave through an entire ice pack in under a minute. Perfect for cooling down on hot summer days or creating refreshing desserts.

[High production] The ice shaver comes with 2 ice cups with lids and is easy to prepare and shave ice. Whether you're entertaining guests or simply looking to cool off on a hot summer day, this versatile and efficient tool enables you to create a wide array of delicious frozen treats in no time. If you need to purchase extra ice cups, they can be found by searching for B0BBQ8JMXY directly.

[Easy to follow and clean] The product is easy to use and doesn't need complicated assembly. There are video tutorials with the instruction manual to help make healthy iced snacks using snow cone syrup. Everything except the motor unit are dishwasher safe.

[Warranty and Support] This shaved ice maker has a stylish and compact design, and won the IF Design Award in 2022. It's a great addition to your kitchen counter and a cool gift for friends and family. CROWNFUL offers a 12-month warranty and lifetime support for this machine. If you have any issues with the unit, please feel free to contact us for assistance.
SPECIFICATIONS:
Power Source:120V/60Hz

Unit size: 7.28×7.28×11.02 in
Gross wieght: 4.23 lbs
NOTE: This product is only works with 120V electricity, Please carefully review the product information to determine if this product is appropriate for you.
Q: Do you have to use ice pucks? or can you use regular ice cubes as well?
A: Standard household ice cubes that are produced from most residential refrigerators may be used instead of ice pucks. However, the shaved ice produced from ice cubes will not be as fluffy as shaved ice produced from ice pucks.
Q: How many snow cones will the disks produce?
A: It depends on how large you want your snow cone to be. about 2 large snow cones.
Q: can I make a puck with a mixture of water and syrup instead of adding syrup after the ice is shaved?
A: Yes, you may mix water and syrup into the ice mold to freeze. After shaving the block of mixed solution, we do suggest carefully wiping down the blade and machine. You don't want the syrup build up on the blade.
Q: What if I don't have enough ice pucks?
A: Maybe you can freeze multiple pucks. Like freeze the 2, put them in a zip lock bag, and continue to do so. So you have many pucks.
Q: How long is the electric cord?
A: About 3ft.
Q: How to make the fluffiest ice?
A: For the fluffiest ice, allow the ice blocks or ice cubes to thaw for about 5 -7 minutes before shaving. This will produce fluffier snow.
Q: Why did the shaved ice machine stop working suddenly?
A: Please keep it cool down and try it again after one hour. The machine has overload temperature control protection.