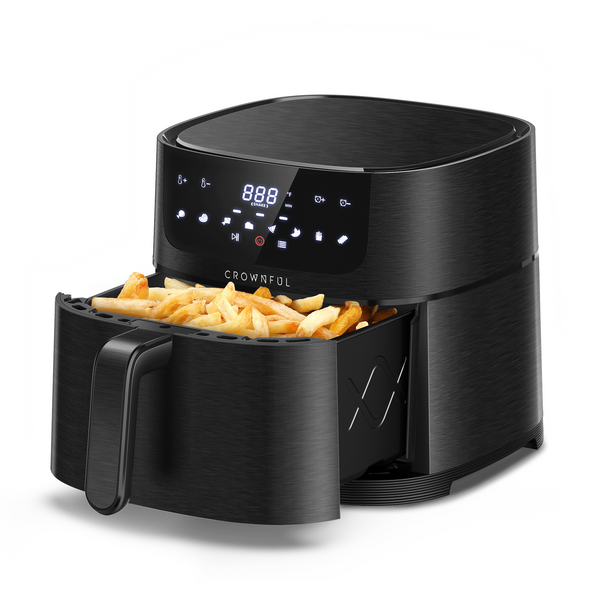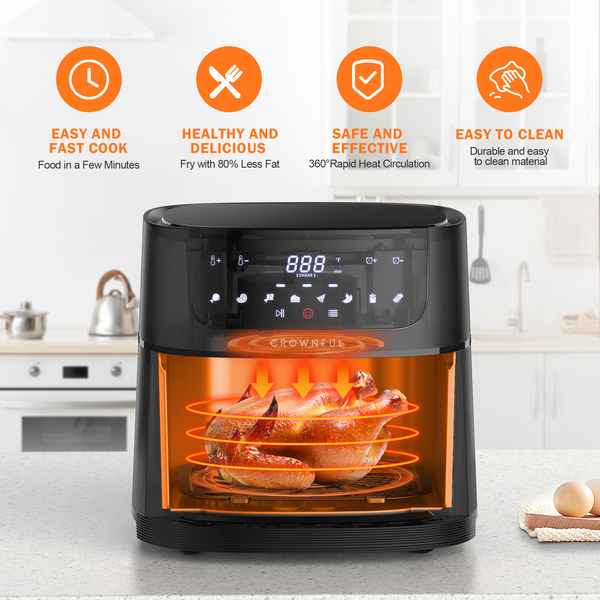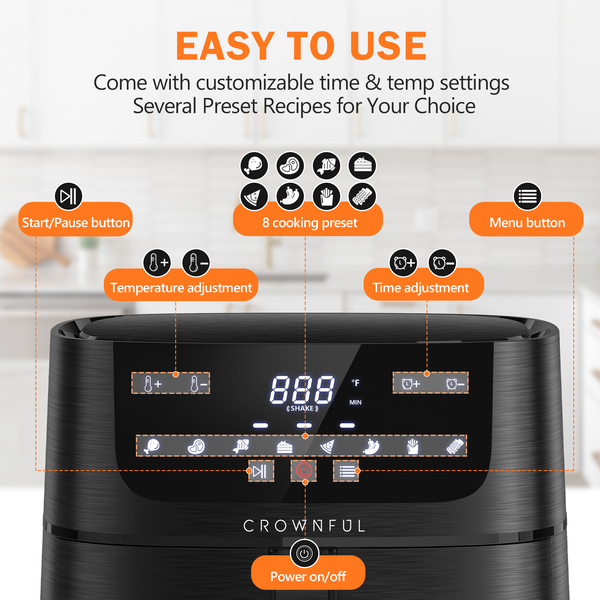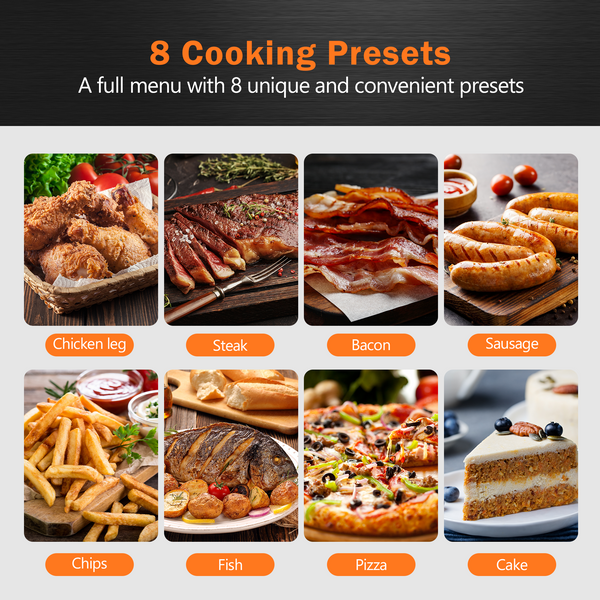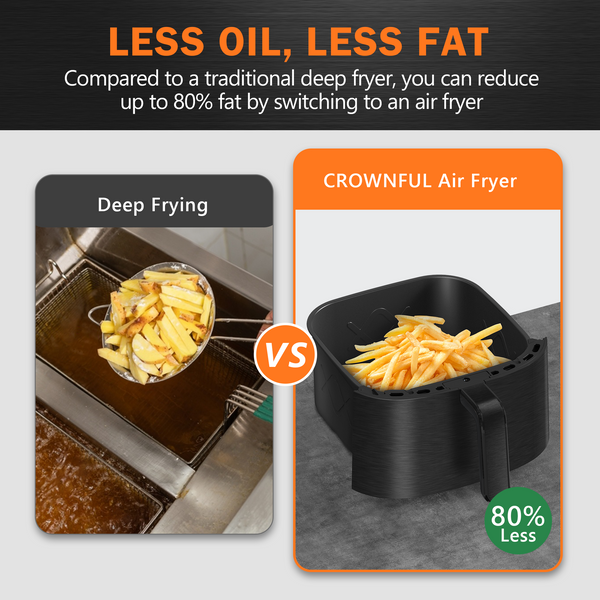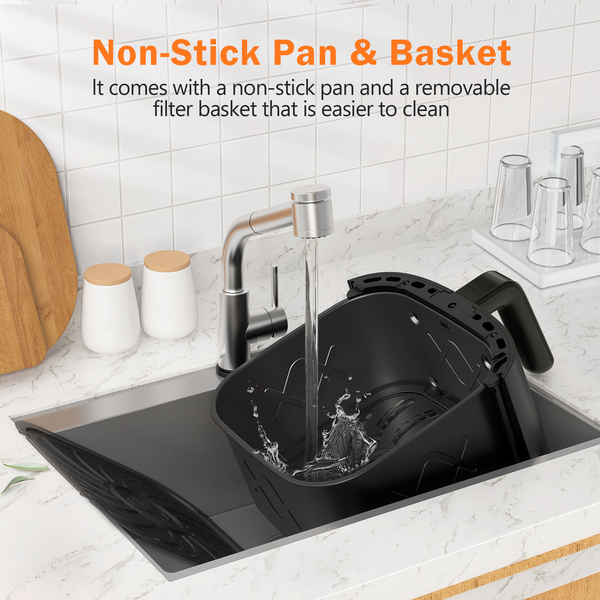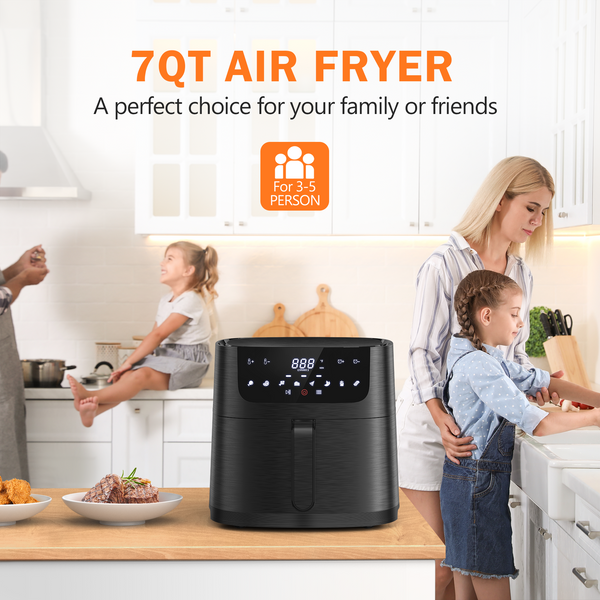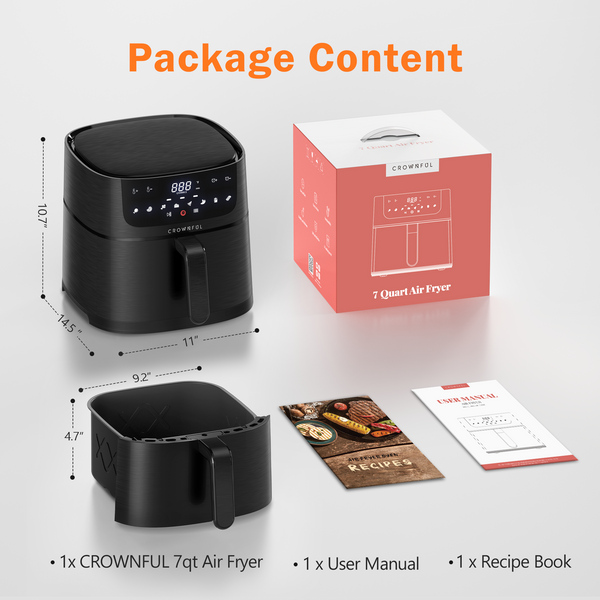 CROWNFUL 7 Quart Air Fryer, Oilless Electric Cooker with 8 Cooking Functions, LCD Digital Touch Screen with Precise Temperature Control, Shake Reminder Function, 1500W, UL Listed-Black
Brand: CROWNFUL
Item Condition:New
Model:AF-E6007

8 PRESET COOKING MODES: The CROWNFUL Air Fryer makes life easier with its 7-quart large capacity and 8 preset cooking menu. That includes: Chicken leg, Steak, Fish, Cake, Pizza, Sausage, Chips, Bacon. It also has an option to adjust the time and temperature according to your recipe requirement.

HEALTHY EATING LIFESTYLE: This air fryer uses rapid air technology to cook your favorite meals. With using only little to no oil, it reduces oil or fat intake for up to 80% so it is ideal for health-conscious and active individuals who want to cook healthy foods faster and easier.


STURDY AND EASY TO CLEAN: It is made with highly durable material and comes with a detachable basket and nonstick grill plate that you can easily wash after cooking. The digital control panel is easy to operate - start cooking with a just a touch of a button. It's efficient and convenient.

STYLISH DESIGN WITH MATTE FINISH BODY: The exterior design looks nice and simple. The matte finish body makes it easy to clean and dry. It's a great appliance that blends in any kitchen counter.
PACKAGE CONTENT:
1 x  CROWNFUL 7QT Air Fryer
1 x User Manual
1 x Recipe Book
SPECIFICATIONS:
Power: 1500W
Voltage: AC 120V~60Hz
Temperature Range:180F~400F
NOTE:
This air fryer oven only works with 120V electricity, make sure to check your outlet's power voltage before using the product if you are NOT in the US.
What is the size?
14.76*13.7*17.64IN/37.5*34.8*44.8CM
Is the basket non-stick? Is the dishwasher safe?
The Air Fryer uses a non-stick inner basket that is PFOA-free. You can remove the basket and let your dishwasher do the cleaning! The detachable basket materials are PFOA-free with a nonstick surface and produce less residue cleaning. The clean-up is a breeze.
Does the writing or controls on the fryer, directions rub off?
Nope,it is a digital display like any other touchscreen. Nothing to "rub off".
Impressed with product and company
I didn't think I wanted an air fryer, mainly because of lack of counter space. That turned out not to be a problem and it looks great in my kitchen. I also didn't know how I was going to use it. Now I use it almost every night and it is so much healthier. There is recipe book included and frozen products in the grocery store that even include air fryer prep. I love it. The Crownful company is very helpful and responsive if needed.
I would buy 1000times over
I love this air fryer this is my second one I had the power xl for a year and it was hard to keep clean it was made cheaply and stopped working after a year. So I ordered this one after talking to a few people and love it we have had it 4 months and we got an E1 error so I send an email to the support team they send me an email back in 5 minutes at 9pm at night they were professional and they replaced it after we send pictures and also asked us to send the old one back they will pay postage. This air fryer is easy to clean works amazingly we use it 3 to 5 times a week it's so quite compared to our old one it also cooks faster I love that the basket doesn't detach like our old one. I would buy from this company 1000 times over I also own their mini waffle maker and lemon squeeze and love them all
I did chicken in my air fryer and I love it .
What a beautiful looking air fryer lol
The display on this is fabulous. My parents own a different brand and so I was really questioning buying from a brand that I personally havent heard of before. I love it. Its so easy to choose from the little icons and adjust the temperature and timer accordingly. Fantastic buy.
No es buena
La use solo una vez y marc E1 y ya no quiere funcionar ??